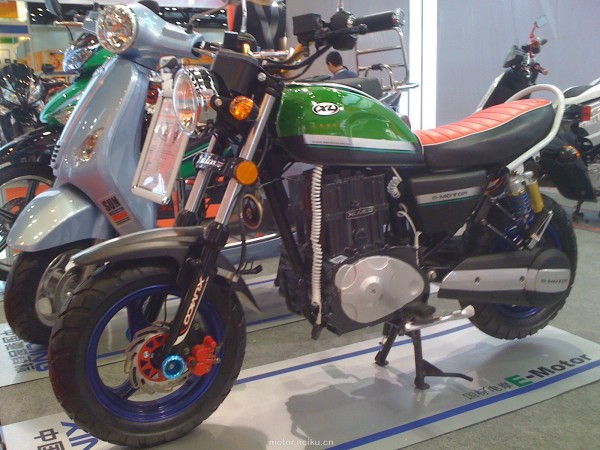 My mind is still spinning from a recent trip into the Chinese motorcycle forums. I blew hours looking through CIMA pics from 2010 and 2011 and this is some of what I have to show for it…
Xinling (Xlmco) made every effort to make this Xinling E-Motor electric motorcycle look like it's gas burning brother. From the monstrous "engine" to the "chain guards" (yes, plural) to it's double piggy back "Ohlins" shocks this hub motored mini bike does a good job looking dirty and loud.
You would think a bike that worked so hard to look gas powered would be ugly but I actually think it looks pretty cool.
Source: nciku.cn via: MyChinaMoto
I'd link to Xinling's website but I can't seem to find one.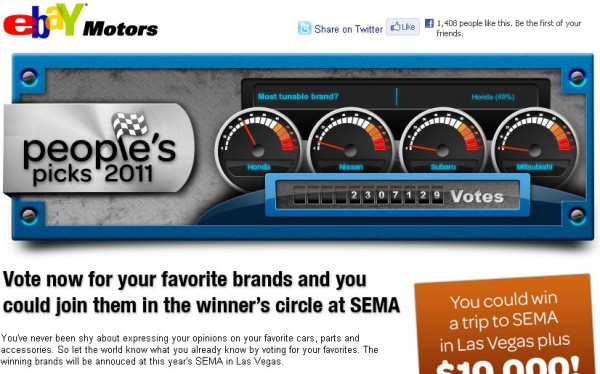 So eBay is holding the 2011 People's Picks to crown motorsports enthusiasts favorite brands. I went through the Motorcycle and Motorsport categories and to my surprise there are no electric motorcycle related choices on the ballet.
But take heart eMoto fans, there are plenty of  "other" fields to specify "TTXGP", "Lightning Motors", Brammo,  "Mission Motors", "Zero Motorcycles", "Quantya", MotoCzysz, "Isle Of Man TT", "Chip Yates" or whatever electric motorcycle related answer you can think of.
Anyone have a good answer for "Favorite exhaust system manufacturer"?
- "Card In Spokes"
- "mp3"
Why not get some electric representation?
Vote here, vote often.
btw… Is it just me or does their logo look like a battery?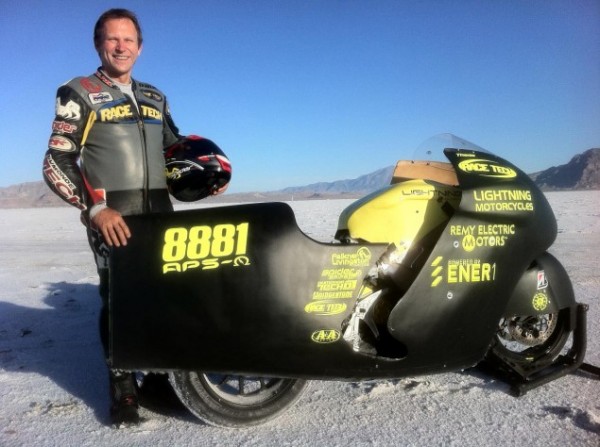 If you thought enough electric motorcycle records had been broken this year, you're in for some disappointment. Lightning Motorcycles crushed the standing electric motorcycle land speed record a few times last week and ended up with 218.637 mph top speed and 215.960  average.
Asphalt And Rubber has had some great coverage over the last few weeks. Check out Paul Thede's record setting run in the video below.  Press release follows. Lightning Motors is taking orders for their electric superbike  if you feel the need to eat up some miles quickly on an electric motorcycle.
Chip Yates will be at Bub Week very soon to try to raise the bar a little more.
Congrats to Richard Hatfield and the Lightning Motors team!
LIGHTNING MOTORCYCLE SETS NEW LAND SPEED RECORD AT 215.960 MPH
Production SuperBike Becomes First Electric Bike to Exceed 200 mph
San Carlos, Calif. – Lightning Motorcycle has set a new land speed record by becoming the first electric motorcycle manufacturer to exceed 200 mph during the Bonneville Salt Flats Speed Week, Aug. 13-19, 2011.
The production Lightning Electric SuperBike achieved an average speed of 215.960 mph with a best speed of 218.637 mph – more than 40 miles-per-hour faster than the previous record of 173 mph, also held by Lightning Motorcycle. Lightning Motorcycle's record is recognized by the Southern California Timing Association/Bonneville Nationals Inc. (SCTA/BNI).
Driven by Paul Thede, principal of Race Tech and the developer of the Lightning SuperBike's suspension system, the SuperBike made a run of 214.209 mph, followed by a return run of 217.712 mph.
To watch a video of the bike topping 200 mph, visit http://www.youtube.com/watch?v=V9FOnkSLFBw&feature=youtube_gdata_player.
This new land speed record maintains the manufacturer's position as the fastest electric bike in the world in its class, and also makes the Lighting SuperBike the fastest motorcycle available for sale in North America.
"Our team was confident and excited to participate at the Bonneville Salt Flats, which is the ultimate proving ground to validate the performance of our Lightning SuperBike," said Richard Hatfield, CEO of Lightning Motorcycle. "We not only succeeded in shattering our previous record, but we confirmed that electric motorcycles will be an important part of our industry's future."
The Lightning Electric SuperBike features a Remy HVH250TM electric propulsion motor, an Ener1 battery pack and additional enhancements. It is factory equipped with track mapping data acquisition. The SuperBike, which is equally suited to track days, weekend rides on your favorite back roads or record runs at Bonneville, has a usable freeway speed range of over 100 miles and a combined city/highway EPA range of over 150 miles.
Interested buyers can purchase the SuperBike by visiting www.lightingmotorcycle.com.
About Lighting Motorcycle
Lightning Motorcycle is dedicated to the belief that world class performance is compatible with clean tech transportation. The company believes that choosing to ride an electric motorcycle should not be a compromise, and the team has honed its understanding of vehicle development as lifetime racers, using competition to refine their technology. In addition to the SuperBike, Lightning Motorcycle is producing prototypes of electric commuter bikes, scooters and ATVs. For more information, visit www.lightningmotorcycle.com.
Image Source: AsphaltAndRubber.com
One of the biggest electric motorcycle races of year is happening this weekend at Laguna Seca. The second race of TTXGP North American series is being held in conjunction with FIM's ePower series and the same weekend as MotoGP. Most of the highest profile and most decorated electric motorcycle race teams will be battling for some serious bragging rights of being the "fastest electric race bike".
Last year Michael Czysz on the MotoCzysz e1pc barely beat TTXGP 2010 points leader Lightning Motors with Michael Barnes in the saddle. MotoCzysz went on to place 1st and 2nd in the 2011 TT Zero at the Isle of Man TT securing the unofficial top spot in the electric motorcycle racing ranks.
This weekend MotoCzysz will defend their status against the serious competition of Steve Atlas aboard the Brammo Empulse, Steve Rapp aboard the Mission Motors Mission R and Lightning Motors. Steve Rapp set the Laguna Seca electric motorcycle lap record earlier this year at the Refuel event but Brammo beat them out when it came to completing the most laps.
eCRP and Munch Racing made the trip across the pond to be on track battling for a spot on the podium. It seems the other bikes have them outgunned in outright horsepower but power management is a big part of electric motorcycle racing so these teams should not be counted out. The stunning eCRP 1.4 is running the proven dual Agni motor setup with Shelina Moreda in the saddle. 2010 TTXGP World Champions Munch Racing have a proven record of consistently strong finishes dating back to the 2009 TTXGP at Isle Of Man. They raced the Mountain Course under the name XXL Racing. They will be fielding a new bike after their last one burst into flames in a recent TTXGP race.
Team Moto Electra and Thad Wolff will also be on the grid. These guys have lots of track time over the last 3 years of ebike racing and have had some very strong finishes.
There are also some familiar names battling in the TTX75 Class. See the full grid below.
Vote for your favorite to win here.
Best of luck to everyone racing. I wish I could be there!
| | | | | | | |
| --- | --- | --- | --- | --- | --- | --- |
| # | Rider | | Nat. | Machine | Team | Class |
| 7 | Manzano | Marcellino | SPA | LGN Racing | LGN Racing Team | FIM/TTXGP |
| 11 | Czysz | Michael | USA | MotoCzysz  E1pc | MotoCzysz | FIM/TTXGP |
| 17 | Rapp | Steve | USA | Mission | Mission Motors -  TTX | FIM/TTXGP |
| 18 | Schless | Ely | USA | Proto  Moto | Pro Moto Racing – TTX | TTX75 |
| 37 | Wolff | Thad | USA | Moto Electra | Moto Electra – TTX | FIM/TTXGP |
| 48 | Brannetti | Alessandro | ITA | eCRP 1.4 | CRP Racing | FIM/TTXGP |
| 49 | Himmelmann | Matthias | GER | Münch TTE | Münch Racing Team | FIM/TTXGP |
| 58 | Atlas | Steve | USA | Brammo  Empulse | Brammo Racing – TTX | FIM/TTXGP |
| 80 | Barnes | Michael | USA | Lightning | Lightning Motorcycles – TTX | FIM/TTXGP |
| 88 | Hannas | Michael | USA | Lightning | Lightning Motorcycles – TTX | TTX75 |
| 96 | Kluge | Kenyon | USA | Zero S | Zero Motorcycles – TTX | TTX75 |
| 93 | Moreda | Shelina | USA | eCRP 1.4 | CRP Racing | FIM/TTXGP |
Image Credit: Mission Motors

Post race interview below.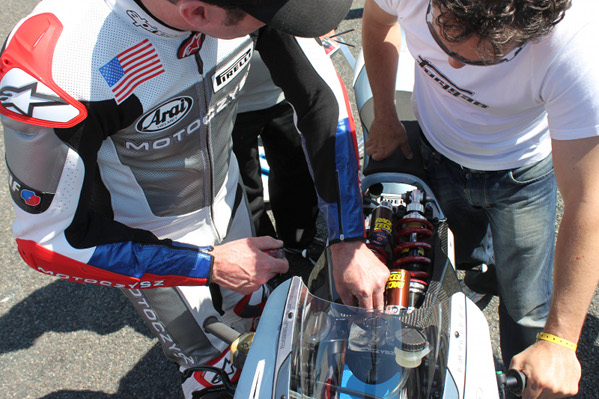 There has been extensive coverage of the new 2011 MotoCzysz e1pc that will be piloted by TT veteran Michael Rutter. With the 2011 TT Zero moved to tomorrow due to rain it gives us more time to speculate and anticipate how the race will unfold.
Here is what we know based on posts from across the eBike blogosphere…
1) The 2011 e1pc sounds sick and looks silly fast compared to the competition. Practice data proves the bike is a lot faster than the rest of the competition.
2) The 2011 e1pc has radical, out-of-the-airbox design with both front and rear shocks under the "tank".
3) Reigning TT Zero champion, two time MotoCzysz TT rider and cool guy Mark Miller will most likely get beat by electric new comer Michael Rutter on the 2011 e1pc.
Here is what some know but others may have missed…
1) On Facebook, Mark Miller mentioned he anticipates a battle with Rutter. This is interesting considering point #1 above.
2) Mark Miller is said to have thought he was low on juice during TT practice and was holding back. (via @brammofan in HFL comments)
3) Michael Rutter said in a Manx Radio interview that he was doing 142 mph at 7,000 RPM. Top speed achieved was 150 mph. The motor revs to 10,000 RPM. Was Rutter holding back? Could a gearing change make him faster accelerating up to speed and produce a faster lap time?
We could have a better battle to watch read about than we anticipate.
Don't rule out Lightning Motors and Ecotricity for a podium spot. They have been much quieter about how practice sessions went and may have tricks up their sleeve to improve performance.
Oh btw, a TT racer on Facebook said TT legend and 2nd place Superstock finisher John McGuiness wants to ride an electric bike next year. Leccy Fever is spreading!
UPDATE: HFL published a great interview with Michael Czysz that explains a lot of the "cards" he might be holding. Seems Rutter is going as fast as he can while conserving energy needed to finish. Czysz also confirms McGuiness' interest in riding an electric next year.
Posted on June 8, 2011 at 11:04 am by
John Adamo
·
Permalink
·
4 Comments
In:
TT Zero
· Tagged with:
2011 TT Zero
,
Leccy Fever
,
Mark Miller
,
Michael Rutter
,
MotoCzysz
,
over under
,
rumors
,
Speculation
,
talk
,
TT Zero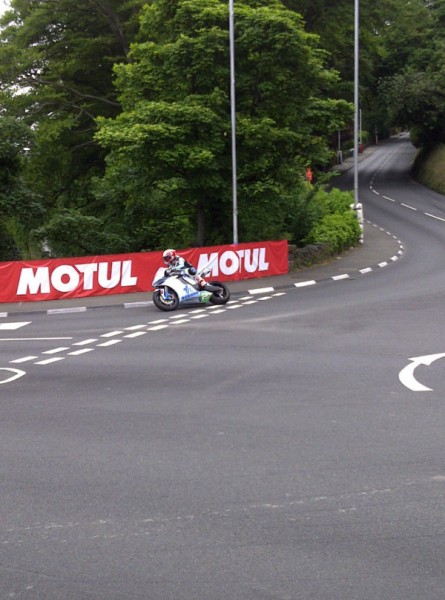 Update: TT Zero has been cancelled due to rain for today 6/8. Unofficial word is it will run 6/9 at 5:15 PM BST (Isle Of Man time), 11:15 AM CST.
The TT Zero race at Isle Of Man is happening some time today. Rain and various scheduling confusion has forced most interested fans to wait and see when the leccy bikes hit the track. When it does start there are a few ways you can track progress and see pics and rankings as they show up.
1) pull up http://ttlive.iomtt.com/ and click on "TT Zero" in the lower left corner of the page. This will show rider rankings as they happen. Sometimes the transponders fail so don't worry if a rider does not show up at a checkpoint.
2) pull up http://www.manxradio.com/ and hope they actually announce the whole TT Zero race. They had great commentary leading up to TT Zero practice but did not cover play by play action during practice.
3) Follow @amadeus_iom, @asphalt_rubber and @caferace on twitter. They are on the Island and posting pics as they happen
4) Follow has tag #ttzero on twitter
5) Any other tips? Please leave a comment.
Thanks to @BrammoFan for reminding me of 1 and 2 in the list early enough to catch the practice sessions. If your not following him on twitter it is highly recommended. He follows the entire electric scene very closely. Not just Brammo.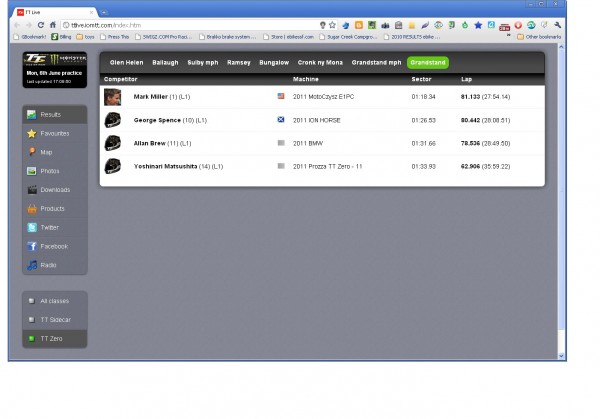 Image: Amadeus Photography
Richard Hatfield and the Lightning Motors team pulled it together for a good showing on during Monday's practice. According to an email update from Richard, they missed the first practice because their Ener1 batteries had been stuck in customs in London with the next fairy leaving the day of the race. Lightning's Rider and well connected IOM native John Borrows pulled some strings to get the cells to the Lightning Team so they could begin final assembly.
After a series of long days that seem to be the norm for electric motorcycle race teams at the Isle of Man, the bike was ready to roll just before the qualifying lap scrutineering.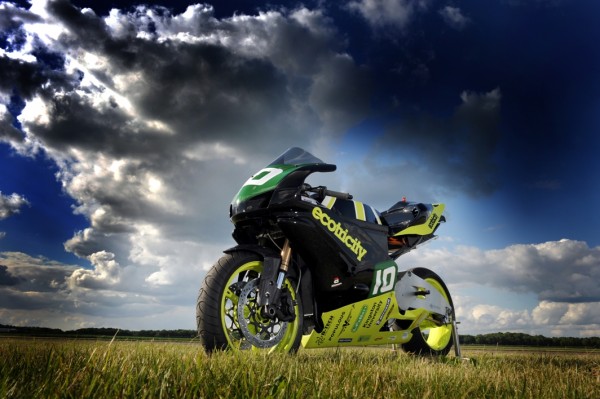 UPDATE: Tons of detailed Ecotricity Ion Horse pics here.
The Ecotricity Ion Horse. At first glance this brightly colored bike with gigantic motor and beefy swingarm seem to have come out of nowhere to contend for the TT Zero podium. There are three big factors that might get the team across the finish line in the top three.
First, Ecotricity have been working with TT Zero veterans Kingston University London who are on their 3rd year of eRacing on the Isle Of Man. So, they have the experience. Second, the motor. The bike is powered by an Oxford Yasa DD500 Motor with 400 Nm of continuous torque and 800 peak Nm. Serious power at ~51 lbs. Third, it seems Ecotricity and/or a large unnamed investor put £ 150,000 (just shy of $ 250,000 USD) into making the bike happen.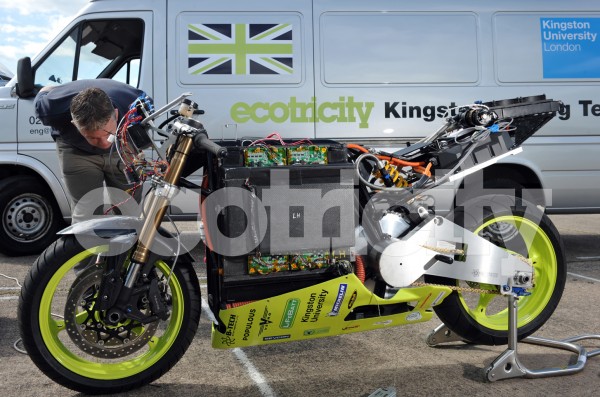 During yesterdays practice, rider George Spence kept the bike close to the performance of MotoCzysz rider Mark Miller on the 2010 e1pc. Spence was .5 mph under the average speed (81.133 mph) and seconds shy of Miller's lap time. However, they were not quiet as fast as the newer MotoCzysz e1pc piloted by Michael Rutter which was said to have hit top speeds of 150 mph during Monday's practice.
The Ecotricity Ion Horse is claiming a 140 mph top speed so without some gearing changes they probably will not win the TT Zero. With the TT there are many factors that can quickly change the math so stay tuned Wednesday morning when the bikes hit the Snaefell Mountain Course for the final.
Click the break to see a video of the Ecotricity Ion Horse testing at Jurby on the Isle Of Man and the full specs of the bike.
Posted on June 7, 2011 at 12:26 pm by
John Adamo
·
Permalink
·
2 Comments
In:
TT Zero
· Tagged with:
2011
,
2011 TT Zero Teams
,
Ecotricity
,
Ecotricity Ion Horse
,
Kingston University
,
Kingston University London
,
KUL
,
Oxford Yasa electric motor
,
TT Zero
,
Yasa DD500
,
Yasa ebike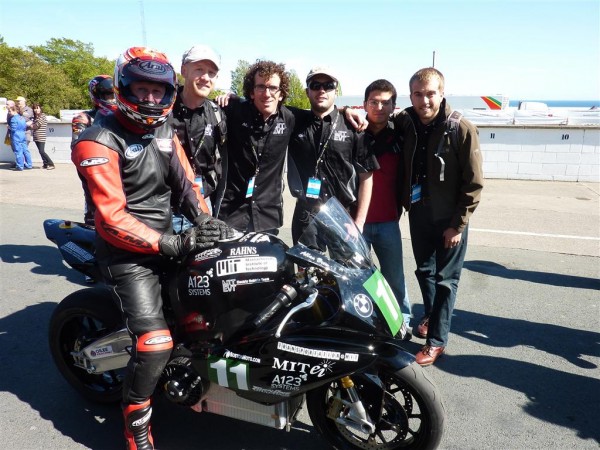 Massachusetts Institute of Technology Electric Vehicle Team (EVT) has their #11 "eSueprbike" on the Isle Of Man this year for TT Zero. Lennon Rogers is leading the MIT EVT team as they attempt to win the 'University Prize' of £5,000 for being the fastest University or College team. This is MIT's first TT Zero but Lennon and team are not EV motorcycle novices.
MIT are running a twin Agni 95 Motor setup with A123 LiFePO4 Prismatic cells in a BMW s1000RR chassis.
Posted on June 7, 2011 at 11:27 am by
John Adamo
·
Permalink
·
Leave a comment
In:
TT Zero
· Tagged with:
#11
,
2011
,
2011 TT Zero Teams
,
A123
,
BMW s1000rr
,
Lennon Rodgers
,
MIT EVT
,
MITei
,
TT Zero Teams
,
University Prize