Electric Fans Rock The Vote! eBay Peoples Pick's Awards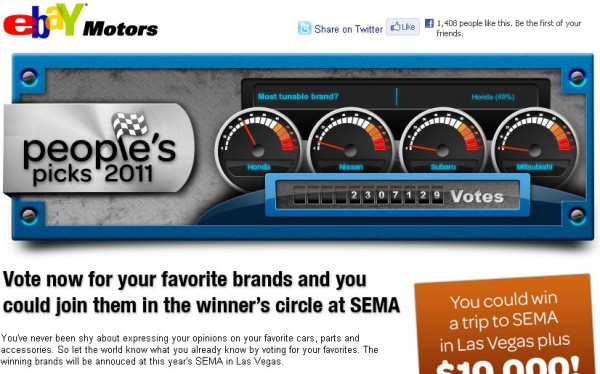 So eBay is holding the 2011 People's Picks to crown motorsports enthusiasts favorite brands. I went through the Motorcycle and Motorsport categories and to my surprise there are no electric motorcycle related choices on the ballet.
But take heart eMoto fans, there are plenty of  "other" fields to specify "TTXGP", "Lightning Motors", Brammo,  "Mission Motors", "Zero Motorcycles", "Quantya", MotoCzysz, "Isle Of Man TT", "Chip Yates" or whatever electric motorcycle related answer you can think of.
Anyone have a good answer for "Favorite exhaust system manufacturer"?
– "Card In Spokes"
– "mp3"
Why not get some electric representation?
Vote here, vote often.
btw… Is it just me or does their logo look like a battery?