Lightning Motors Does 218.637 MPH On The Salt – New Record 215.960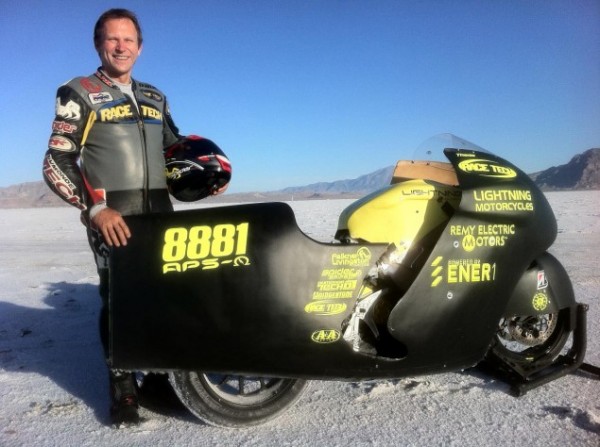 If you thought enough electric motorcycle records had been broken this year, you're in for some disappointment. Lightning Motorcycles crushed the standing electric motorcycle land speed record a few times last week and ended up with 218.637 mph top speed and 215.960  average.
Asphalt And Rubber has had some great coverage over the last few weeks. Check out Paul Thede's record setting run in the video below.  Press release follows. Lightning Motors is taking orders for their electric superbike  if you feel the need to eat up some miles quickly on an electric motorcycle.
Chip Yates will be at Bub Week very soon to try to raise the bar a little more.
Congrats to Richard Hatfield and the Lightning Motors team!
LIGHTNING MOTORCYCLE SETS NEW LAND SPEED RECORD AT 215.960 MPH
Production SuperBike Becomes First Electric Bike to Exceed 200 mph
San Carlos, Calif. – Lightning Motorcycle has set a new land speed record by becoming the first electric motorcycle manufacturer to exceed 200 mph during the Bonneville Salt Flats Speed Week, Aug. 13-19, 2011.
The production Lightning Electric SuperBike achieved an average speed of 215.960 mph with a best speed of 218.637 mph – more than 40 miles-per-hour faster than the previous record of 173 mph, also held by Lightning Motorcycle. Lightning Motorcycle's record is recognized by the Southern California Timing Association/Bonneville Nationals Inc. (SCTA/BNI).
Driven by Paul Thede, principal of Race Tech and the developer of the Lightning SuperBike's suspension system, the SuperBike made a run of 214.209 mph, followed by a return run of 217.712 mph.
To watch a video of the bike topping 200 mph, visit http://www.youtube.com/watch?v=V9FOnkSLFBw&feature=youtube_gdata_player.
This new land speed record maintains the manufacturer's position as the fastest electric bike in the world in its class, and also makes the Lighting SuperBike the fastest motorcycle available for sale in North America.
"Our team was confident and excited to participate at the Bonneville Salt Flats, which is the ultimate proving ground to validate the performance of our Lightning SuperBike," said Richard Hatfield, CEO of Lightning Motorcycle. "We not only succeeded in shattering our previous record, but we confirmed that electric motorcycles will be an important part of our industry's future."
The Lightning Electric SuperBike features a Remy HVH250TM electric propulsion motor, an Ener1 battery pack and additional enhancements. It is factory equipped with track mapping data acquisition. The SuperBike, which is equally suited to track days, weekend rides on your favorite back roads or record runs at Bonneville, has a usable freeway speed range of over 100 miles and a combined city/highway EPA range of over 150 miles.
Interested buyers can purchase the SuperBike by visiting www.lightingmotorcycle.com.
About Lighting Motorcycle
Lightning Motorcycle is dedicated to the belief that world class performance is compatible with clean tech transportation. The company believes that choosing to ride an electric motorcycle should not be a compromise, and the team has honed its understanding of vehicle development as lifetime racers, using competition to refine their technology. In addition to the SuperBike, Lightning Motorcycle is producing prototypes of electric commuter bikes, scooters and ATVs. For more information, visit www.lightningmotorcycle.com.
Image Source: AsphaltAndRubber.com