Is MotoCzysz Showing All Their TT Zero Cards?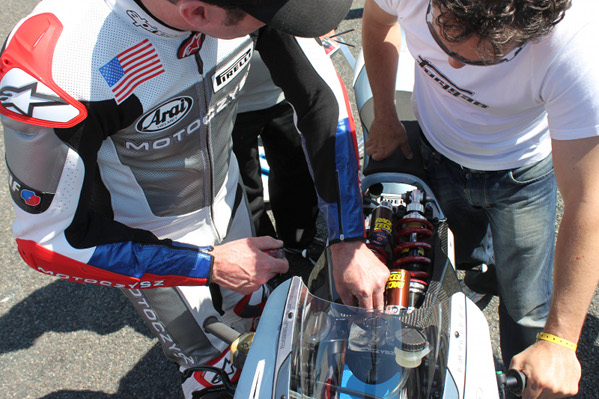 There has been extensive coverage of the new 2011 MotoCzysz e1pc that will be piloted by TT veteran Michael Rutter. With the 2011 TT Zero moved to tomorrow due to rain it gives us more time to speculate and anticipate how the race will unfold.
Here is what we know based on posts from across the eBike blogosphere…
1) The 2011 e1pc sounds sick and looks silly fast compared to the competition. Practice data proves the bike is a lot faster than the rest of the competition.
2) The 2011 e1pc has radical, out-of-the-airbox design with both front and rear shocks under the "tank".
3) Reigning TT Zero champion, two time MotoCzysz TT rider and cool guy Mark Miller will most likely get beat by electric new comer Michael Rutter on the 2011 e1pc.
Here is what some know but others may have missed…
1) On Facebook, Mark Miller mentioned he anticipates a battle with Rutter. This is interesting considering point #1 above.
2) Mark Miller is said to have thought he was low on juice during TT practice and was holding back. (via @brammofan in HFL comments)
3) Michael Rutter said in a Manx Radio interview that he was doing 142 mph at 7,000 RPM. Top speed achieved was 150 mph. The motor revs to 10,000 RPM. Was Rutter holding back? Could a gearing change make him faster accelerating up to speed and produce a faster lap time?
We could have a better battle to watch read about than we anticipate.
Don't rule out Lightning Motors and Ecotricity for a podium spot. They have been much quieter about how practice sessions went and may have tricks up their sleeve to improve performance.
Oh btw, a TT racer on Facebook said TT legend and 2nd place Superstock finisher John McGuiness wants to ride an electric bike next year. Leccy Fever is spreading!
UPDATE: HFL published a great interview with Michael Czysz that explains a lot of the "cards" he might be holding. Seems Rutter is going as fast as he can while conserving energy needed to finish. Czysz also confirms McGuiness' interest in riding an electric next year.
Photos: Amadeus Photograph / HFL and @caferace
Posted on June 8, 2011 at 11:04 am by
John Adamo
·
Permalink
In:
TT Zero
· Tagged with:
2011 TT Zero
,
Leccy Fever
,
Mark Miller
,
Michael Rutter
,
MotoCzysz
,
over under
,
rumors
,
Speculation
,
talk
,
TT Zero