The MIT EVT eSuperbike At Isle Of Man TT | 2011 TT Zero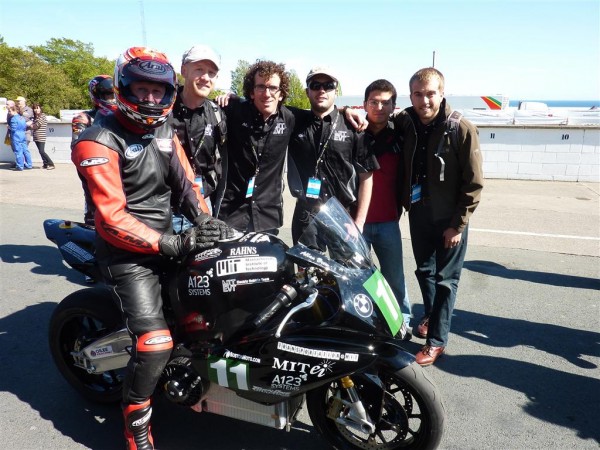 Massachusetts Institute of Technology Electric Vehicle Team (EVT) has their #11 "eSueprbike" on the Isle Of Man this year for TT Zero. Lennon Rogers is leading the MIT EVT team as they attempt to win the 'University Prize' of £5,000 for being the fastest University or College team. This is MIT's first TT Zero but Lennon and team are not EV motorcycle novices.
MIT are running a twin Agni 95 Motor setup with A123 LiFePO4 Prismatic cells in a BMW s1000RR chassis.
The team has been blogging many updates and pictures over the last week. Have a look at the MIT EVT blog to catch up on their progress as they iron out issues with their bike and motors in their Isle Of Man shop. Also known as Allan Brew's garage. (see video at end of post) Allan is their rider for TT Zero.
Posted on June 7, 2011 at 11:27 am by
John Adamo
·
Permalink
In:
TT Zero
· Tagged with:
#11
,
2011
,
2011 TT Zero Teams
,
A123
,
BMW s1000rr
,
Lennon Rodgers
,
MIT EVT
,
MITei
,
TT Zero Teams
,
University Prize