Lightning Motors 2011 TT Zero Entry
Richard Hatfield and the Lightning Motors team pulled it together for a good showing on during Monday's practice. According to an email update from Richard, they missed the first practice because their Ener1 batteries had been stuck in customs in London with the next fairy leaving the day of the race. Lightning's Rider and well connected IOM native John Borrows pulled some strings to get the cells to the Lightning Team so they could begin final assembly.
After a series of long days that seem to be the norm for electric motorcycle race teams at the Isle of Man, the bike was ready to roll just before the qualifying lap scrutineering.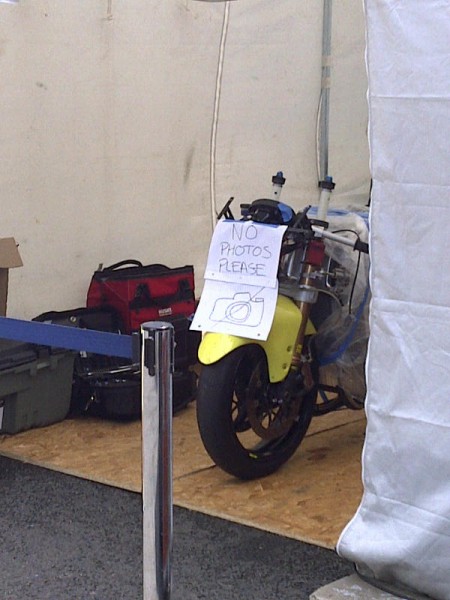 Little is known about the 2011 Lightning bike but here is what I have scraped together. Gone is the legendary EV1 motor but the howl of it spooling up under power will not be forgotten. Bothan Spies brought me word it has been replaced by a more modern, liquid cooled Remy motor. This is the same manufacturer that powers the MotoCzysz e1pc bikes. Obviously there is quiet a bit of logic between the battery pack and the motor that can give an edge to either side in the power management and delivery department. And even then we have not talked about chassis and suspension.
Between Lightning, MotoCzysz 2010.5 and 2011 e1pc and Ecotricity is seems at least 4 bikes battling for the podium… If everyone truly qualified.
Monday's practice session showed Borrows and Lightning will be a great match for Mark Miller's older MotoCzysz machine. The Ecotricity Ion Horse / Kingston University team which also posted great times and should be in the hunt for the podium.
Check out the video below HFL posted showing the Lightning bike in practice. It is the final bike to pass by after:
1) Mark Miller's 2010.5 MotoCzysz E1pc
2) George Spence's Ecotricity Ion Horse
3) Allan Brew's MIT EVT eSuperbike
4) Russ Mountford's Brunel X-Team BX-11
5) Yoshinari Matsushita's Team Prozza
6) Michael Rutter's 2011 MotoCzysz E1pc
Source: Lightning Motors
Images: Amadeus Photography