2011 TT Zero Podium Contender – Ecotricity Ion Horse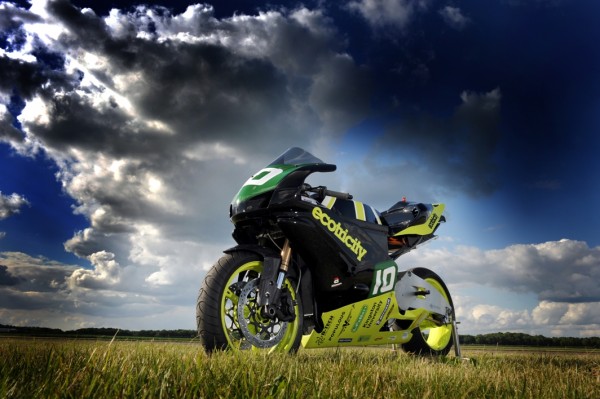 UPDATE: Tons of detailed Ecotricity Ion Horse pics here.
The Ecotricity Ion Horse. At first glance this brightly colored bike with gigantic motor and beefy swingarm seem to have come out of nowhere to contend for the TT Zero podium. There are three big factors that might get the team across the finish line in the top three.
First, Ecotricity have been working with TT Zero veterans Kingston University London who are on their 3rd year of eRacing on the Isle Of Man. So, they have the experience. Second, the motor. The bike is powered by an Oxford Yasa DD500 Motor with 400 Nm of continuous torque and 800 peak Nm. Serious power at ~51 lbs. Third, it seems Ecotricity and/or a large unnamed investor put £ 150,000 (just shy of $ 250,000 USD) into making the bike happen.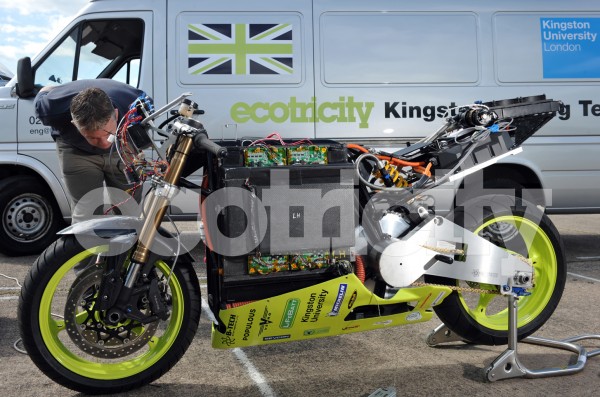 During yesterdays practice, rider George Spence kept the bike close to the performance of MotoCzysz rider Mark Miller on the 2010 e1pc. Spence was .5 mph under the average speed (81.133 mph) and seconds shy of Miller's lap time. However, they were not quiet as fast as the newer MotoCzysz e1pc piloted by Michael Rutter which was said to have hit top speeds of 150 mph during Monday's practice.
The Ecotricity Ion Horse is claiming a 140 mph top speed so without some gearing changes they probably will not win the TT Zero. With the TT there are many factors that can quickly change the math so stay tuned Wednesday morning when the bikes hit the Snaefell Mountain Course for the final.
Click the break to see a video of the Ecotricity Ion Horse testing at Jurby on the Isle Of Man and the full specs of the bike.
| Bike Name | Ion Horse |
| --- | --- |
| Motor | Oxford Yasa DD500 |
| Top speed | 140mph |
| 0-60 | 3s |
| Peak power | 100kW |
| Continuous power | 55kW |
| Max torque | 800Nm |
| Continuous torque | 400Nm |
| Battery type | LiFeBATT Lithium polymer cobalt |
| Battery capacity | 14kWhrs |
| Range | 40 miles racing, 120 mile road |
| Weight | 220kg |
Source: Ecotricity
Posted on June 7, 2011 at 12:26 pm by
John Adamo
·
Permalink
In:
TT Zero
· Tagged with:
2011
,
2011 TT Zero Teams
,
Ecotricity
,
Ecotricity Ion Horse
,
Kingston University
,
Kingston University London
,
KUL
,
Oxford Yasa electric motor
,
TT Zero
,
Yasa DD500
,
Yasa ebike