Brunel X-Team Is Back For A Third TT Zero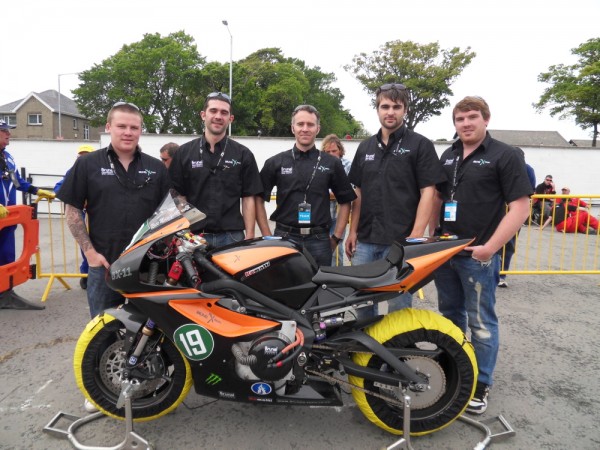 The Brunel X-Team BX-10 never saw the circuit for last years TT Zero. Not because of a mechanical or electrical failure which is fairly common in these early days of electric motorcycle racing. Instead, it was a heroic act by their rider, Paul Owen that caused him to miss the TT Zero race. They did however race in the 2009 TTXGP at Isle of Man where they took 9th place overall and 6th in the Pro Class.
The Brunel University Team are back in 2011 with a much improved iteration of their electric race bike dubbed the BX-11. This years rider is Russ Mountford.
Project supervisor Dr. Koen Matthys sent me some information on the BX-11 and some updates on their progress. The absence of Agni Motors on the island this year is being felt by the team. One of their Agni 95 motors failed and it will take some time to fix it without Agni's assistance. In 2010, Agni and Brunel worked side by side in the pits and the Brunel students helped put together 4th place finisher Jenny Tinmouth's Agni X02 bike as well as 2nd place finisher Rob Barber's bike.
Koen and team decided to make today's qualifying run with 1 motor. Russ Mountford did not complete the whole lap but put in sufficient mileage needed to qualify. The bike will be running strong by Wednesday's final. At the end of last years TT Zero Dr. Matthys told me his team had the knowledge to build an ebike capable of  a 100 mph average lap. 3/4 of the team would be involved in the 2011 project and have hard learned lessons to build on. Matthys explains the BX-11 is probably an iteration away from the 100mph bike it aims to become, but it is definitely already designed to be a frontrunner among university teams at the 2011 TTZero and will be gunning for this year's University Prize.
Best of luck to the # 19 Brunel Team, they deserve a great finish and are my personal underdog favorites.
Posted on June 6, 2011 at 11:17 pm by
John Adamo
·
Permalink
In:
TT Zero
· Tagged with:
#19
,
2011 TT Zero Teams
,
Brunel X-Team
,
Brunel X-Team BX-11
,
BX-11
,
Dr. Koen Matthys
,
Koen Matthys
,
Paul Owen
,
Russ Mountford
,
TT Zero Teams