TTXGP 2011 Kicks Off This Weekend At Infineon!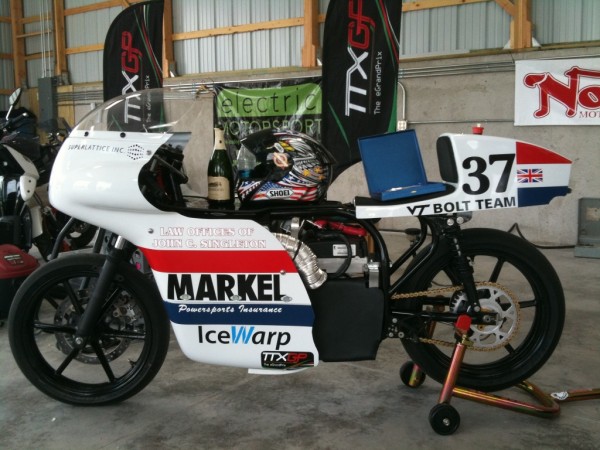 This weekend TTXGP North America kicks off the season at Infineon. The list of teams is a little shorter than last year but Lightning Motors is doubling down on last year's championship with two bikes.
Lightning Motors
Michael Barnes #80 is back with Team Lightning Motors and will be on a much lighter bike than last year's EV1 powered Yellow Banana. As Motoelettriche mentioned in some A&R comments, the bike sounded awesome. It also had serious power but had some ground clearance issues.
Mike Hannas is moving from the Electric Race Bikes team to Lightning Motors. Last year at Infineon he rode the bike built by the late Matt Dieckmann to third at Infineon. I hope he keeps last year's leathers, they rocked.
Moto Electra #37
Thad Wolff is back in the saddle of the feather bed framed Moto Electra bike. Midwest nice guys Brian Richardson and Moto Electra team have been riding TTXGP since Mid Ohio and have put in some strong finishes. Check out the new Moto Electra bike on The Electric Chronicles.
Brammo Racing #58
Brammo is not just racing dirt this year. After taking 3rd place in the IOM TTXGP in 2009, Brammo stepped back to concentrate on building bikes and skipped the 2010 race season. They are back for 2011 with the Brammo Empulse RR and have teamed with Motorcycle USA and racer / editor Steve Atlas.
Proto Moto Racing #18
Ely Schless has been in the electric motorcycle scene for a long time. He designed the Electric Moto Blade and has worked on many electric motorcycle projects afterwards. He was at last year's 2010 Infineon TTXGP hanging out in the pits. It will be interesting to see what he brings to the grid.
VOLT #19
Kenyon Kluge, a Zero Motorcycles employee, raced last year at Infineon on a modified Zero S under the name K Squared Racing. Loren Crotty and Eland Eggers of VOLT Motorcycles were also there as competitors bringing the extensive EV knowledge of Thunderstruck Motors to the track. It appears the two groups have joined forces.
Mission Motors #17
Mission has a new bike for the 2011 season and they scored the talent of Steve Rapp to ride the bike. Unfortunately I hear Mission will not make it to the grid at Infineon.
I had a blast at last year's TTXGP (that's me on the right next to BrammoFan!) at Infineon. I'm bummed I can't be there this year. The feeling of walking around the pits of TTXGP is amazing and has a unique energy you can't find often in a lifetime. If you're into electric and you can get there you should. The number of EV motorcycle people you will meet with big time skin in the game will be worth the trip alone.
Get your discount TTXGP tickets here. Take pics and post them up. Make me jealous! :D
Also, don't forget Laguna Seca this year. TTXGP and FIM have come back together after a year breakup to run 3 races together, Sears being the first.