Roehr eSuperSport New And Improved For 2011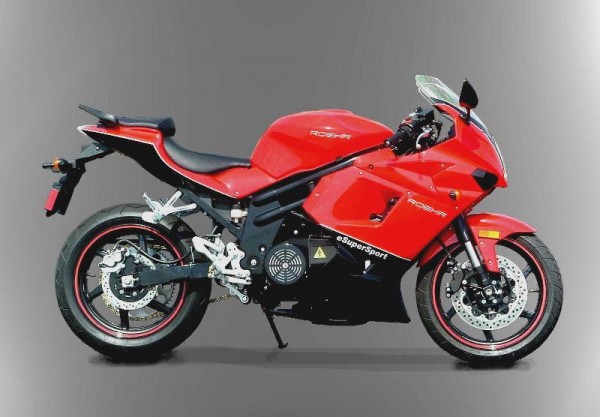 Roehr Motorcycles is upping the ante for 2011 and moving from the Hyosung GT250 platform to the beefier GT650 chassis. Roehr is rocking the Hyosung bodywork for the 2011 electric bike instead of rolling his own aerodynamic design as they did in 2010. The new frame is not have a perimeter frame like the previous. The Hyosung 650 frame is designed to use the engine as a stressed member. This probably presented some challenges for Roehr but most likely allowed more room in the end to hang the motor and battery pack off the frame.
Power on the 2011 eSuperSport is up to 67 HP (peak) from last years 48 HP. Weight appears to be up 75 lbs from the 395 lbs I had reported last year.
The choice to stick with the stock bodywork of the Hysoung GT650 should bring the production cost of the bike down. It will also allow customers to utilize the decent supply of aftermarket parts available for the GT650. Windscreens, race wheels, brake upgrades, aftermarket exhaust are all readily available.
The press release below mentions "shunt balancing". If you are wondering what that is have a listen to episode 11 of the eBike Nerd Cast. Hosts Troy Rank and Greg Crist interview Richard Flechter and Gary Goodrum who built the Zephyr BMS. Skip to 34min 30sec where they explain Shunt circuit cell balancing. The whole episode and all the previous are great too.
Looks like a nice progression for the Roehr ebike line. Hopefully we will see the eSuperSport or eSuperBike on the TTXGP circuit this year.
See the pictures and press release after the break.
Roehr Motorcycles introduces the new 2011 eSuperSport
Gurnee, IL. 06May2011;
Roehr Motorcycles is pleased to introduce a significant milestone in production electric motorcycles, the all new 2011 Roehr eSuperSport.
The eSuperSport delivers performance unequaled by any current production street legal electric motorcycle, offering a level of performance that motorcyclists have come to expect and demand.
The 2011 eSuperSport benefits from a closer relationship with Hyosung Motors USA*, based on the award winning GT650R, known for it's outstanding value, reliability, and high equipment level, has been integrated with Roehr Motorcycles' latest version of it's advanced and proven electric drive system. The result is the best performance electric motorcycle value on the market.
Powering the eSuperSport is a highly efficient AC Induction Motor, with 50Kw (67Hp) of power, and 80 lb/ft of torque. The eSuperSport is capable of 100+ MPH top speeds with strong acceleration, providing a unique and thrilling riding experience for those that demand more of a motorcycle than merely keeping up with traffic.
The Roehr battery pack features high discharge, LiFePO4 battery chemistry, proven to be safe and reliable while providing industry leading cycle life and high energy density. The 7.7Kwh capacity provides a range of up to 75 miles and can be recharged with the powerful 1500watt on-board charger in less than 7 hours.
The Roehr battery pack is monitored and protected by a Battery Management System which controls battery charging functions, low voltage warning/intervention, and cell balancing.
The powerful and sophisticated electric drive system is complemented by an equally impressive chassis and running gear, delivering the performance levels that motorcyclist have been looking for in an electric motorcycle.
From it's stout twin oval tube beam frame, adjustable 41mm inverted forks, and powerful dual 300mm front disc brakes with 4 piston calipers, to the adjustable rising rate single shock rear suspension, the eSuperSport offers the handling and braking performance required of a true sporting motorcycle.
From daily commuting, to spirited back road riding, or just a lazy Sunday morning ride, the Roehr eSuperSport offers the best value in the electric performance motorcycling industry.
The electric motorcycle that many have been waiting for is now available; reserve yours today.
Contact Roehr Motorcycles LLC at 1-708-212-7324 or visit us at www.roehrmotorcycles.com for more information.
Specifications:
Motor
Type: AC Induction
Power: 50Kw (67Hp) peak
Torque: 80 lb/ft
Battery
Type: LiFePO4 high discharge cylindrical cell
Voltage/Ah: 96V (nominal) / 80Ah
Amperage: 650 amps (peak)
Capacity: 7.7 Kwh
Charging: 1000 watt on-board
Recharge
time: 7 hours
Management: LVC, HVC, shunt balancing
Performance
Top Speed: 100+ MPH (160+ Km/h)
Average Range: 75 Miles (120 Km)
Components
Frame: Twin oval tube steel beam frame
Front Suspension: 41mm inverted, adjustable rebound and
compression dampening
Rear Suspension: Single shock with rising rate linkage,
adjustable for preload.
Front Brakes: 2 x 300mm discs, 4 piston calipers
Rear Brakes: Single disc, 2 piston caliper
Tires front/rear: 120/60ZR17; 160/60ZR17 Bridgestone
MSRP: $17,995
* Roehr Motorcycles LLC does not express or imply any affiliation with Hyosung Motors USA.