Brammo Gets Dirty, Long Live The Wheelie!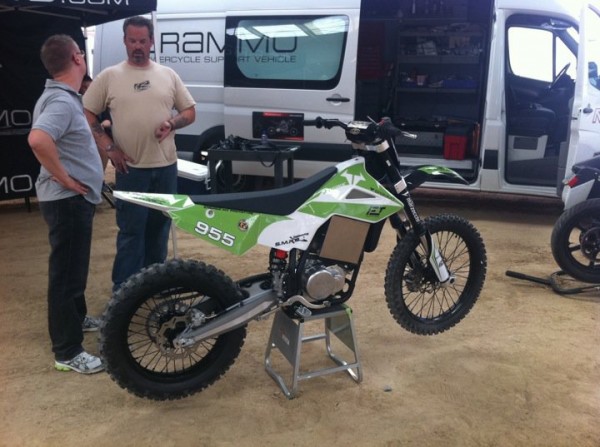 After multiple years of street only electric motorcycle production I'm not sure why Brammo decided to go to the dirt and I won't speculate. I am just happy they did. Electric makes sense for the dirt for a wide variety of riders. Desert Racers and guys who love epic rides through the mountains are obviously gonna pass on electric but for MX tracks, riding parks and backyard hooligans electric is better than gas in many ways. But that is another blog post.
True to Brammo style, they went big with the prototype Engage and Encite. A six speed gear box will allow more torque, top speed and range but more importantly, "the wheelie" is not just for gas bikes anymore. Wheelies are a critical skill when riding offroad. If a 12" log sits in the trail and your buddies are close behind you gotta get over it. Without huge power of a modern dirtbike it's nice to have a clutch to help make that happen. More importantly, if a kid is watching you ride by you are obligated to wheelie if no cops are around. Regardless of what people say, that is what brings kids into the sport and allows the industry to survive. If you can't wheelie, that is fine but you gotta wave or honk at least. But that is another blog post.
It appears the Encite MX has fullsize wheels and full MX spec travel. If not, pretty close. If you want to run with the big bike this is very important. Logs, whoops and general trail gnar requires full size wheels and full travel suspension to clear the nasty stuff. Otherwise you depend on above average skill or stick to moderate trails.
There has been lots of chatter in the forums about gears and whether or not they will help and electric bike move faster or farther. There are great arguments for and against. I mentioned in some comments on The Kneeslider last year when SMRE introduced the geared system that I hoped someone would experiment with it. I'm glad Brammo decided to dive in.
Tonight we will see what Kris Keefer can do aboard the Brammo Encite in the 2011 Minimoto SX. He will be up against Zero motorcycles in the electric class. Quantya unfortunately will be a no show this year. Watch the finals of Mini Moto SX live at Ustream. Racing starts at 7:45 PM Pacific and Brammo will be in the MM16 Stock mod/Electric final which is race 13.
See the press release after the break.
Brammo Announces a Strategic Partnership with SMRE and Launches
New Brammo Motorcycles with patented IET Six Speed Drivetrain.
Ashland, OR, and Italy, May 4th 2011–Brammo, Inc. a global leader in the electric vehicle
industry and S.M.R.E. Engineering, a leading engineering research and development company
today announced that Brammo and SMRE have entered into a strategic partnership. As a part
of this agreement, Brammo has acquired an exclusive international license of SMRE's patented
Integrated Electric Transmission (IET). IET enables Brammo to offer its electric motorcycles with
a 6 speed transmission – further improving performance and range. The first application of the
new IET will be on the Brammo Engage and Encite which are announced today and which will
be unveiled prior to competing in the MiniMotoSX race in Las Vegas on Friday, May 6, 2011.
"It is fundamental to Brammo's success that we continue to innovate and develop our strong
reputation for high quality, exciting motorcycles," stated Craig Bramscher, CEO and Founder
of Brammo, Inc. "Combining the SMRE Integrated Electric Transmission system with the
Brammo Power™ Batteries and Battery Management System keeps Brammo at the forefront of
Powersports drivetrain technology."
"We are delighted to have Brammo as our strategic partner." said Samuele Mazzini, founder
and CEO of SMRE and creator of the IET™. "This alliance will see the IET integrated into Brammo
motorcycles and enjoyed by riders all around the world."
Today Brammo announces four new models all featuring the IET™ and swappable Brammo
Power battery packs.
– Engage MX – dirt bike competing in MiniMotoSX – anticipated price $9,995.00
– Engage SMR – Super Moto Racing – anticipated price $9,995.00
– Engage SMS – Super Moto Street- anticipated price $11,995.00
– Encite MMX PRO – mini dirt bike competing in MiniMotoSX – no price announced
Prices do not include relevant taxes or Federal and State electric vehicle incentives.
The Engage and Encite join the award winning Enertia and stunning Empulse. Together, these
four model ranges offer motorcycle dealerships the most comprehensive range of electric
motorcycles available. Brammo continues to expand its dealership network in North America
and will be adding many new dealers over the next 90 days.
Integrated Electric Transmission (IET™) – The IET™ is a mechatronic propulsion unit that
emulates the feeling and performance of a traditional internal combustion engine, with a
specially developed electric motor, clutch and gear shift, that enables Brammo motorcycles
to accelerate hard from the line up to a high top speed, something that is just not possible to
achieve with a single ratio electric motorcycle.
"Electric motorcycle design has always been a bit of a balancing act in direct drive systems
where great acceleration performance comes at the expense of low top-end speed." Stated
Brian Wismann, Director of Product Development at Brammo. "The IET™ system provides
the best of both worlds and is the perfect complement to Brammo's industry leading Brammo
Power battery and vehicle control technology to maintain our position as the world's leading
electric motorcycle manufacturer. "
About SMRE
SMRE srl is an Italian engineering company with a strong emphasis on innovation through
research and development. SMRE distinguishes itself through the creation of high quality
revolutionary technology. By working closely with its customers, SMRE is able to develop
custom engineering solutions that redefine the limits of what is thought possible. For more
information, please visit www.smre.it
S.M.R.E. srl
S.S. Tre Bis Z. I. Montecastelli
06019 Umbertide (PG)
Italy
Tel.: +39 075 9306500
Information: info@smre.it
About Brammo
Brammo Inc is a leading electric vehicle technology company headquartered in North America.
Brammo designs and develops electric vehicles including the Enertia, Empulse and Engage
motorcycles. Brammo is an OEM supplier of its innovative Brammo Digital Drivetrain™ systems
including the Brammo Power™ battery pack and Brammo Power™ vehicle management system.
Posted on May 6, 2011 at 10:21 am by
John Adamo
·
Permalink
In:
Brammo
· Tagged with:
Brammo
,
Brammo Encite
,
Brammo Engage
,
Brammo Engage MX
,
Brammo Engage SMS
,
Brammo Supermoto
,
electric motorcycle clutch
,
electric motorcycle gearbox
,
Gear Box
,
gears
,
Mini Moto SX
,
prototype