Are Electric Motorcycles As Fast as Gas Bikes? Yates Proves Yes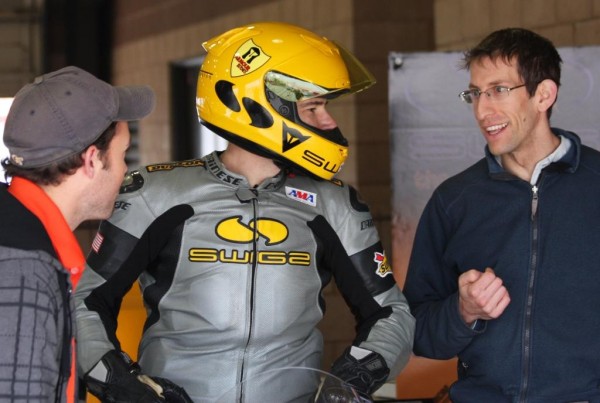 When an electric bike built by a handful of guys beats the track day favorites like the SV650, Ducati NCR 1000 and a Ducati 848 in a WERA event at Fontana, it's hard to argue against electric being every bit as fast as gas. Chip Yates and the SWIGZ.com Pro Racing team did just that taking 3rd place in the Heavyweight Twins Superstock Expert class at WERA. On the same day they took 2nd in the Heavyweight Twins Superbike Expert class.
In a Gas 2.0 interview with Susan Schick yesterday (video after the break), Chip explained that on the first lap he took it easy to let the tires come up to temperature. He did not do the warm up lap. The Electric Superbike had 30 Ah of capacity and Chip anticipated using 27 Ah. After the first lap Chip began "thrashing it" and riding the bike hard. In a second video embedded below you see Chip passing Stephen Foreman's SV650 on the outside. The sound of the electric motor spooling up in stark contrast to the vTwin rumbling and grabbing gears.
Chip also explains in Schick's interview that he is having some wheelie and other instability issues which you can also see in the race lap video at about 2:30 in. Power tweaks and steering dampener changes will be in order. Last week the SWIGZ team scrambled to move part of the large tail-mounted battery under the "gas tank" to help with weight distribution for this race. No small engineering feat.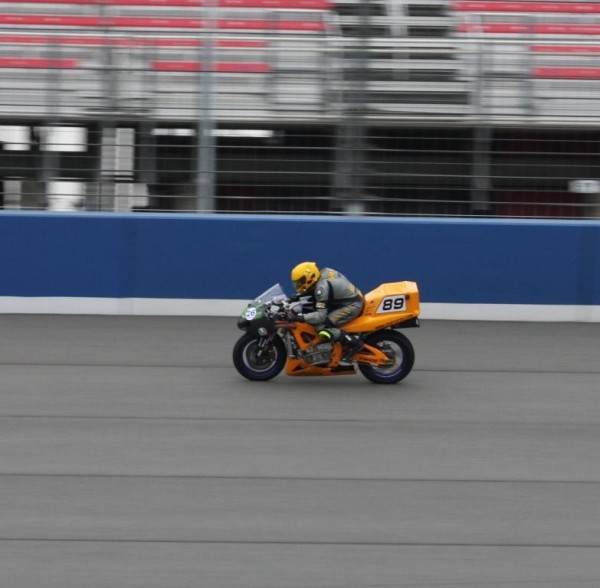 Chip eventually plans to race against inline-4 600's and 1000's in the Superbike and Superstock classes. With only 25 laps under their belt, they have great potential to improve quickly.
Earlier this year TTXGP and FIM lowered the weight limits of their respective Open Classes which disqualified the SWIGZ.com bike from competition. Yates chose not to work to lose the weight necessary to take part in those race series and stuck to the plan of building a no-compromises electric superbike. Electric racing is new. We have to expect some drama when smart people have big dreams. SWIGZ.com Pro Racing found a way to continue reaching for their goals in the WERA series against gas bikes. Props to Chip and team for proving they are every bit the entrepreneur as other high profile names in the EV world. It's hard to argue they are not leading the charge (sorry, couldn't help it) in "electric versus gas" powersports war.
Photos: Julie Yates
Posted on January 10, 2011 at 5:56 am by
John Adamo
·
Permalink
In:
Electric vs Gas
,
Racing
· Tagged with:
Auto Club Speedway
,
Chip Yates
,
Chip Yates Interview
,
electric vs gas
,
electric vs ICE
,
Fontana
,
interview
,
Racing
,
SWIGZ
,
WERA
,
WERA electric bike