2011 Mission R Pics And Specs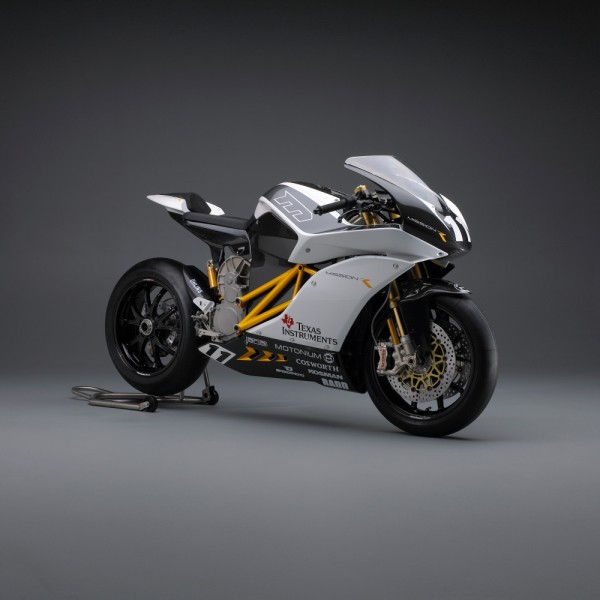 After months of teasing we finally get a look at Mission Motors second iteration of an electric race bike, the Mission R.
It was worth the wait. The bike is stunning and packs some serious power in a package smaller than a 600cc gasser. The 14.4 kWh battery pack has 1.9 kWh more capacity than the 2010 MotoCzysz e1pc. The Mission EVT electric drive gives it a 3 phase AC Induction for 141 HP, 115 ft-lbs of torque at the crank for a top speed of 160 mph. Regen and power delivery are programmable to suit the rider.
But hold on, how much does it weigh? 545 lbs. Whew, just made the TTXGP weight limt! Good thing because Mission Motors will race the Mission R with the rest of the electric motorcycles in TTXGP.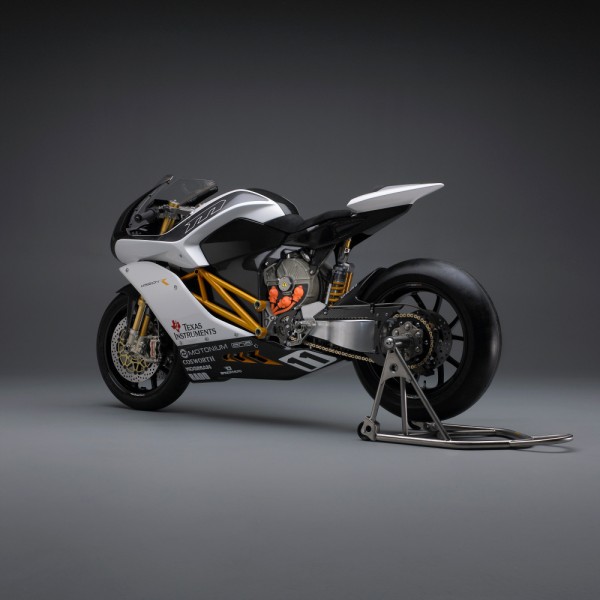 About the time Mission redesigned their website, James Parker showed up on the team page. He did not manage to talk Mission into one of his patented RADD front ends but he did design the Mission R chassis from scratch around the Mission EVT and the payload of lithium that powers it. Mission brought in Timothy Prentice of Motonium to wrap the bike in sexy. He's the guy who designed my late 90's bike-lust, the Honda Superhawk VTR 1000 and that vTwin sport bike prototype Honda should have built.
Mission did a great job of highlighting the EVT. When you look at it there is not doubt the bike is electric. It seems the electric motorcycle will never loose the tank but I'm not sure my mind can do without it yet anyway.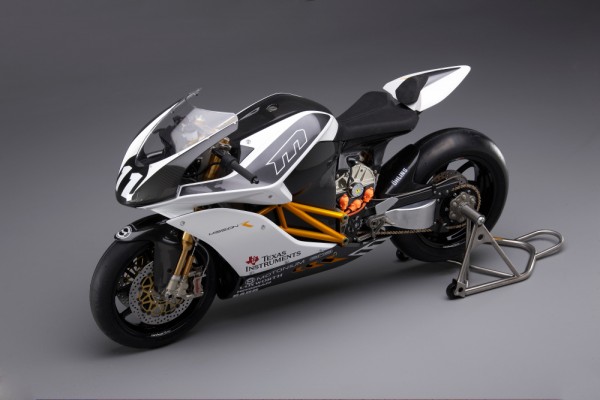 Before I paste in the specs and press release I'll mention it is great to see an established technology corporation like Texas Instruments get behind Mission and support their race efforts. The Mission R looks poised to make their marketing spend pay off in the 2011 race season.
Be sure to stop by the Progessive Internation Motorcycle Show this weekend in LA to check it out.
The specs, more pics and the press release below.

Mission R Specifications
Motor
141 horsepower liquid-cooled 3-phase AC induction
Torque
Crank: 115 ft-lb (0 – 6400RPM)
Top Speed
160+ mph
Energy Storage
• MissionEVT battery modules with integrated Battery Management System
• Carbon fiber casing with dielectric liner
• Swappable architecture
• 14.4 kWh total energy storage
Power Control:
MissionEVT 100kW controller with integrated Vehicle Management System
• Adjustable throttle mapping
• Regenerative braking
• WiFi & 3G data connectivity
Transmission
Single speed, gear-driven primary reduction
Chassis
RADD-designed Quad-Element Frame
• Billet aluminum and
• Chrome-moly
• Power-Unit as fully-stressed member
• Battery box as semi-stressed member
Front Suspension
• Öhlins FGR-000 TTX25 Gas Charged Fork
• Adjustment for preload, ride height, high and low speed compression and
rebound
Rear Suspension
• Single-sided billet aluminum swingarm with linear wheelbase/chain adjustment
• Öhlins TTX36 Shock and progressive linkage system
• Adjustment for preload, ride height, high and low speed compression and
rebound
Wheels
Marchesini forged magnesium 10-spoke.
• Front: 17" x 3.5"
• Rear: 17" X 6"
Front Brake
• 2 Brembo 320 mm narrow-band racing stainless rotors
• 2 Brembo 2-piece billet 4-piston 30/34 mm differential bore radial-mount calipers
Rear Brake
• 245 mm stainless rotor
• Brembo HPK 2-piston 34 mm caliper

Mission Motors Unveils Mission R Electric Racing Superbike
New factory racer features latest MissionEVT technology, will race in TTXGP
Long Beach, California — December 17th, 2010 — Today at the Long Beach International Motorcycle Show, Mission Motors unveiled the Mission R, the company's new electric racing superbike. Featuring the company's latest powertrain technology and an entirely new race-ready design, the motorcycle will lead the company's upcoming 2011 racing program. "We are excited to announce the Mission R, our compact and powerful factory electric racebike," said Mission Motors' Founder Edward West. "This bike represents the culmination of all the company's learning in both electric powertrains and motorcycle engineering."
The Mission R features the latest components from MissionEVT, the EV powertrain technology arm of Mission Motors. MissionEVT components are powerful, intelligent, and efficient. The Mission R packs 14.4 kWh and 141 horsepower in a package smaller than a modern 600cc sportbike. The liquid-cooled 3-phase AC Induction motor creates 115 ft-lbs of torque at the crank from 0 to 6400 RPM, propelling the Mission R to a top speed of over 160mph in a singe gear. The MissionEVT 100kW motor controller, with customizable regenerative braking maps and throttle maps, allows the rider to tune the bike to his or her preferences.
The Mission R chassis, designed by James Parker, features an entirely new design for integrating and balancing the weight and volume of a large EV battery pack into a motorcycle chassis. The chassis is wrapped in a new and aerodynamic industrial design by Tim Prentice of Motonium, with a small frontal-area and aggressive ergonomics. The Mission R will hit the track in early 2011 and will compete in the TTXGP racing series along with other races, events, and demonstrations. "Racing is in our DNA," West said. "Mission Motors participated in the historic first Isle of Man TTXGP in 2009. Later that year, we went to the Bonneville Salt Flats and set an AMA Speed Record for electric motorcycles in 2009. With the help of our sponsors, including Texas Instruments and Pectel/Cosworth, we are excited to be returning to the track in 2011 with the phenomenal Mission R. The crucible of the racing circuit is one of the key ways we advance our technology. Pushing the envelope for what is possible with electric drive shapes not only the future of motorsports, but the future of transportation." Learn more about Mission Motors and the Mission R at http://RideMission.com.
About Mission Motors
Mission Motors is an electric vehicle company creating the most advanced production electric motorcycle in the world while developing leading EV powertrain technology through its MissionEVT division. Headquartered in San Francisco, California, the company's elite team of engineers draw from expertise in the powersports, automotive, robotics, battery and software industries to develop technologies that maximize the potential of the electric drivetrain. The concept is simple: Redefine the world of electric vehicle performance.