ATK Puts Their Chips On Electric With The ATK-Le

After building gas bikes for 25 years, Salt Lake City based ATK USA plans to enter the electric motorcycle market with the ATK-Le (Law Enforcement). ATK has built an electric supermoto and dualsport based on their successful ATK 450, which they plan to sell to police and authority customer agencies, or departments. ATK had previously supplied a rolling chassis to build the Electric Moto EMAX 72DS prototype I covered last December. I loved it for its traditional 12-inch travel Ohlins suspension, Talon/Excel wheels, and premium spec combined with a race proven aluminum chassis. No deal was struck with Electric Moto so ATK is now building the bike on its own. However, they don't believe electric motorcycles are ready for mass consumption by civilians, at least not yet. They think the simplicity and quiet nature of electric drive makes it perfect for urban patrol duty.
The ATK-Le uses a Perm motor and a 72 volt system to produce 36 ft-lb of torque. The 225 pound bike will have a top speed of 75 miles per hour with a 100 mile range. ATK estimates this will translate to a 3 hour continuous run time while being put to use by law enforcement agencies. A second generation bike is also in the works with more power and a 3 phase AC motor.
See the full spec sheet after the break.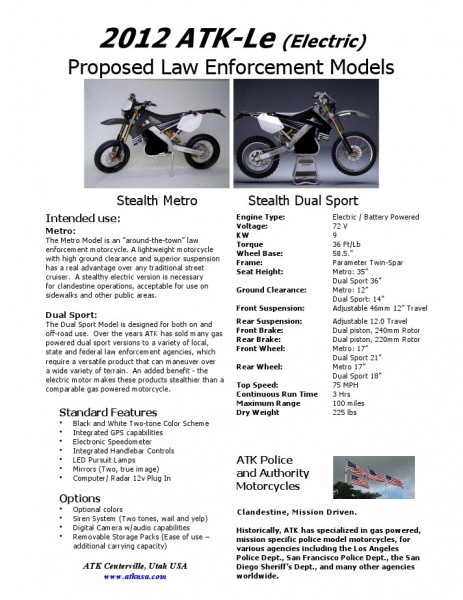 ATK may be new to the electric drive motorcycle world but it knows fleet sales, having sold gas dualsport bikes to many agencies over the years. Some of its clients include San Francisco Police Department, San Diego Sheriff's Department and the LAPD. Former Harley-Davidson fleet sales front man Jon Syverson, who managed Harley's highly successful world-wide police and fleet sales business team for over 20 years, now works for ATK and knows how to outfit and package a motorcycle to appeal to the men and women who are sworn to protect and serve. The quiet nature of an electric will allow police to patrol city parks, pathways and plazas with minimal noise and be more aware of their surroundings. 13 inches of ground clearance and 12 inches of Ohlins travel will suck up potholes and curbs while the slender profile of bike will make navigating parked cars and traffic a breeze. No clutch makes it easier to operate electronics on the bike. Like the rest of us, police have a soft spot for their gadgets. ATK is working with major fleet bike component manufacturers that Syverson had association with during his Harley days to outfit the bike with the right optional equipment. Harley-Davidson is still the motor officer's ride of choice, with a market share over 85% (Source: Motorcycle Industry Council).
ATK CEO Frank White may feel the market is not there for electric motorcycles outside of fleet sales but he sees a bright future for e-drive two wheelers. The fleet sales will allow the numbers ATK needs short term and when the market is ready, ATK's strong American brand and position in select Harley Davidson dealerships will ease their move into civilian sales. White is always quick to say that "ATK is doing this with some select Harley-Davidson Dealers and that the Harley-Davidson Motor Company, nor its affiliates neither endorse or support ATK in anyway." A reputation for "Trooper Tested Tough" motorcycles will be built in the eyes of enthusiast civilians as has been the case with other bikes adopted by motor patrols. This will no doubt build some demand for the bikes before they even come to market.
ATK also has something other electric motorcycle manufacturers are currently struggling to build: A well-funded, multi-product, experienced dealer network. If you've ever been to a big Harley dealership you know the power of this. You walk in the door to 30 foot ceilings supported by bricks and iron, pour a cup of coffee and browse through dozens of black and chrome freedom machines. After buying the bike of your dreams loaded with options you come back for the racks of gear, shirts and monthly group rides. They know how to sell, up-sell, market and finance and they have the customer experience nailed and that is a big part of what makes them a Fortune 500 company.
Before the ATK-Le makes it to the sales floor, ATK will be selling 250 and 650cc V-Twins manufactured in Korea by S&T Motors (known for the Hyosung brand). ATK and some select Harley dealerships that will carry the bikes believe they will bring a younger rider into dealerships and build a staircase of units up to the smallest HD 883 Sportster.
Considering the ho-hum Concours and R1200 RT-P look like the current alternative rides of choice for law enforcement, let's hope ATK USA and their tough-looking full-sized electric motos can help bring sexy back to the two wheeled patrol units. It's all there before us, in black and white – and GREEN; Ponch and John's kids demand it.
Below is a video of the Electric Moto prototype. Expect the first generation ATK-Le to be very similar in form before it is set up for Law Enforcement duty.