Enertia Range Doubles For 2011 With Enertia Plus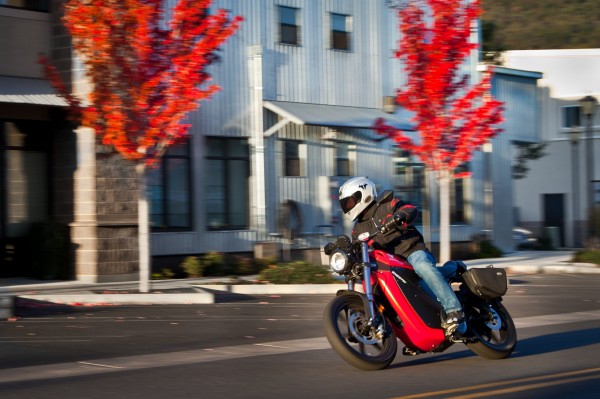 For 2011 the Brammo Enertia will see significant improvements including a range anxiety easing 80 mile range and a name change to the Enertia +. (see press release below) The range improvement alone is impressive but the most exciting part for the electric motorcycle world is that the capacity of the 3 kWh battery pack doubled without adding any weight to the 324 pound 2010 machine. With these two accomplishments, Brammo continues to deliver its vision of electric motorcycle technology improving at a rate similar to consumer electronics. The retail price will go up $1000 to $8995 and existing Enertia owners will get a $2500 check to facilitate an upgrade.
With the sporty Empulse joining the lineup in 2011, Brammo appears to be shifting the bias of the Enertia even more toward urban commuting duty. The handlebars have been moved back 1 inch for a more upright seating position, the turning radius was tightened and the 60+ mph top speed stays intact. A center stand and Givi hard bags will be options.
Video and press release after the break.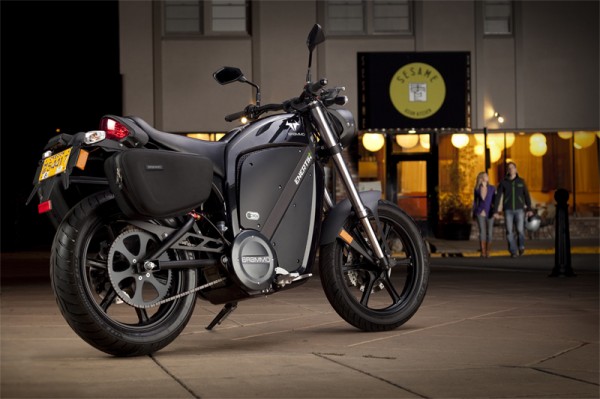 Other improvements to the Enertia come from Brammo's presence on Facebook, Twitter, and a dedicated discussion forum that they use to monitor the complaints and praise from owners and enthusiasts. In fact, the Eclipsed Black color option and name was a favorite, chosen by the members of the Brammo Owners Forum. The multi-step start procedure has now been simplified by just turning the key and charging happens by simply plugging the bike in. One glaring complaint left on the 2011 Enertia seems to be the loud cooling fan but forced cooling seems to be the norm for DC motors (Enertia is AC) in production electric motorcycles.
Preorders are no money down and refundable. As with the Empulse, a free Enertia+ will go to one lucky person who gets one of the first 1000 preorders in. Be sure to preorder early with all your identities and split personalities.
Hats off to Brammo for delivering amazing improvements in technology yet again and basing it on real consumer feedback. They are changing the face of powersports in more ways than one. Visit the Brammo Enertia Plus page for more information.
Brammo Enertia Plus Press Release
Brammo announces the – 2011 Enertia Plus – an electric motorcycle which can travel up to 80 miles (128 kilometers) on a single charge and costs $8995.

Ashland, Oregon – October 19th, 2010. Brammo, Inc. announced today the Enertia Plus, featuring Brammo Power™ the latest in Lithium-Ion battery technology. The Enertia Plus is available for immediate pre-order and deliveries will commence in 2011. www.brammo.com
Craig Bramscher, Founder and CEO of Brammo said " I am delighted to announce the highly anticipated next member to our Enertia product line, the Enertia Plus. Taking full advantage of the Brammo Power™ technology revealed initially in the Empulse, we are now able to offer consumers twice the range in our Enertia platform. At just a $1000 price difference compared to the standard Enertia, we are offering a truly practical EV motorcycle with unprecedented consumer value."
Brian Wismann, Director of Product Development added "It's truly been an amazing experience to watch the Enertia's capabilities as a motorcycle grow in step with the latest developments in EV technology. As with every Brammo product, the Enertia Plus represents the best of what we know. When we started the Enertia development, I never would have believed such a huge leap in range was possible in such a short period of time. "
Enertia Plus Specifications
Battery 6.0 kWh Lithium Ion
Avg. Range* 80 miles / 128 km
Weight 324 lbs / 147 kg
The Enertia Plus will also feature a number of enhancements including simplified charging, improved maneuverability, plus the option to add a center kick stand and rigid Givi side bags. Customers can choose from four new colors; Eclipsed Black, Peacekeeping Blue, True Blood Red and Aluminium Silver.
The expected MSRP for the Enertia Plus when deliveries start next year is $8995. The Enertia Plus will be eligible for all applicable Federal and State EV tax incentives.
One Thousand Pre-order Promotion
Customers can place their pre order for an Enertia Plus by visiting the Brammo website www.Brammo.com . It is expected that all five models of Brammo motorcycle will be available globally through authorized Brammo motorcycle dealerships including participating Best Buy stores during 2011. As with the recently announced Empulse one of the first one thousand customers to pre-order the Enertia Plus will receive their motorcycle compliments of Brammo.
Enertia to Enertia Plus
Enertia customers will be eligible for a Brammo loyalty rebate of $2500 when purchasing the Enertia Plus during 2011.
About Brammo
Brammo Inc is a leading electric vehicle technology company headquartered in North America. Brammo designs and develops electric vehicles including the award winning Brammo Enertia voted electric motorcycle of the year 2010 and the game changing Empulse. Brammo is an OEM supplier of its innovative Brammo Digital Drivetrain™ systems including the Brammo Power™ battery pack and Brammo Power™ vehicle management system. Brammo has vehicle distribution and marketing operations in North America, Europe and Asia.
For more information go to www.Brammo.com you can follow Brammo on Twitter at BrammoSays and on Facebook at Brammo Powercycles.
*Electric vehicle range is affected by a number of factors including; speed, acceleration, number of starts and stops, rider and cargo weight, changes in elevation, head winds and road surface.
Posted on October 19, 2010 at 8:38 am by
John Adamo
·
Permalink
In:
Brammo
,
News
· Tagged with:
2011 Enertia Plus
,
6 kWh pack
,
80 mile range
,
battery pack improvements
,
Brammo
,
Brammo Power
,
Brammo Power Battery Pack
,
Enertia
,
Enertia Plus
,
LA92
,
LA92 drive cycle
,
Video