Mavizen TTX03 Unveiled At Intermot Will Travel The Globe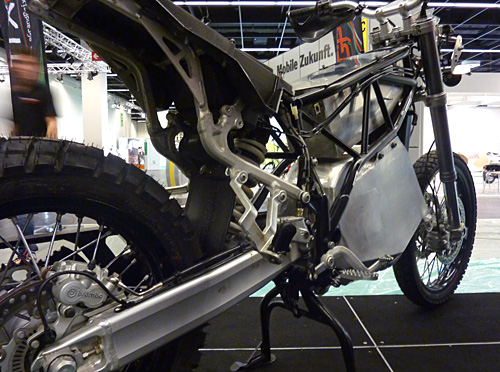 Almost a year ago Azhar Hussain and Mavizen mentioned the TTX03 was on the drawing board. Originally, it was planned to be based on an MX bike. It seems plans have changed, as yesterday at Intermot 2010, Mavizen unveiled a work-in-progress electric adventure bike based on the KTM 990 Adventure rolling chassis.
Norwegen long distance motorcyclist Tormad Amlien and the Electric Epic team plans to ride the Mavizen TTX03 around the world in four months. The team's web site states the TTX03 will be ready to ride some time after this Christmas with production versions available in a year or two.
The TTX03 will have a liquid-cooled AC motor mounted inside the chassis instead of the opposed and exposed twin DC, air-cooled Agni 95Rs of the TTX02 electric race bike.
Electric Epic joins the short list of groups attempting a long distance journey on an electric motorcycle. As far as I know this would be the first around the world trip on an electric motorcycle. Shocking Barack proved the quest for an electrical socket to be as much of an adventure as the natural obstacles found on the road. Electric Epic will add 3rd world countries and rough roads to the equation and will do it on a bike they admit will be a work in progress during the journey. Here's to hoping they remember to charge the phone so they can keep us in the loop with their twitter and facebook account.
Source: Electric Epic Via: Everyone's favorite Norwegian journalist