TTXGP North American Series Final And FIM Makeup?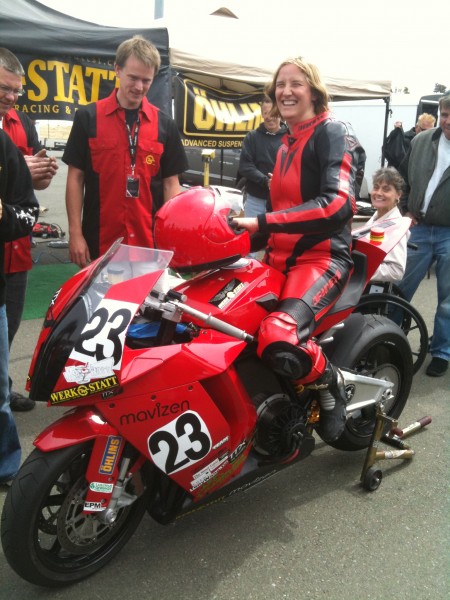 This weekend is the final race of the North American TTXGP series and rumor has it the turnout at VIR will be strong. If Michael Barnes and the Lightning Motors team can keep the bike running strong they should take the series win. Zoe Rem and Team Agni could tie Lightning for first if they pull off a win. Unless Arvind and Cedric have found some extra go fast for the Agni bike their best chance is a mechanical failure in the EV1 powered Lightning Motors rocket. It has happened to Lightning before. Have a look at TTXGP's summary of the VIR grid. It is a thorough post and I don't want to bore you with a complete rehash.
TTXGP is close to wrapping up its first full race season and I would say it has exceeded my expectations just like the 2009 TTXGP at Isle of Man TT. Azhar Hussain's ability to bring teams to the grid and build support from fans and the industry has been impressive. There are more volunteers behind the scenes of TTXGP than you would believe working for the cause and to grab a place in history. You can even watch the races on TV in the UK and on Speed 2 in the USA. I honestly did not think that would happen this year. Nice!
TTXGP and FIM Makeup?
Over the last few weeks there have been whispers of TTXGP and the FIM making amends and working together for 2011 electric race season. The original plan for 2010 was to have TTXGP running the events with the support and blessing of the FIM. That all fell apart for one reason or another and FIM started e-Power while TTXGP continued on its own.
Check out the great article written by Ivar Kvadsheim on why the FIM and TTXGP should make amends. The comments are worth reading too. Azhar chimes in and sounds very open to working with the FIM again. Please add your 2 cents for or against, I already did. Word on the streets is the comments are being watched closely by decision makers. The FIM and TTXGP have complimentary strengths that could take electric racing to the next level. Having all the electric bikes at all the races would be great for the sport, no doubt. Can this partnership between to vastly different organizations work?
If you're in Boston, be sure to go see Azhar speak at TiE "Speed for Green: electrifying motorsport to drive the change on our roads" on August 16th, 2010 at 6:30 pm. See the TTXGP site for more information.