Video Of MotoCzysz Taking The Win Over Lightning At Laguna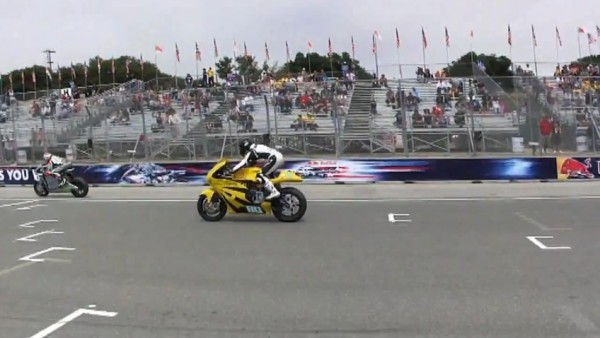 Check out this video of the e-Power grid at Laguna Seca. There is some great footage of the bikes before, during and after the race. Besides hearing the National Anthem playing at Laguna Seca, one of the coolest part is seeing Michael Czysz take the win, passing Barnes feet from the finish line while both were passing Christian on the Epo-Bike. Czysz was 5 seconds down from Barnes in the first lap due to a fault shutting the e1pc down at the start and a difficult pass.
Michael Czysz has a good summary of his perspective of the race on his blog. Here is how he describes the finish…
Going into T11 for the last time, I closed up to within 1 second behind Barnes. A nice drive, no trip… and a win could be possible. As we started down the straight for the finish line I was focused on the drive and Barnes and didn't even see the bike we were lapping until Barnes went left to make his pass. My closing speed on both bikes was very high. I quickly veered right and made the pass for the win on the outside shoulder of the track.
Check out the video of the e-Power race after the break.