Introducing A Trio of Brammo Empulse Sportbike Prototypes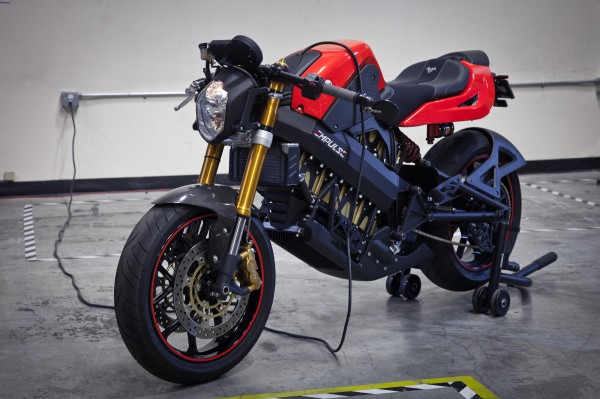 Today Brammo is unveiling a prototype of the 2011 Brammo Empulse series of electric sportbikes. The Empulse 6.0, 8.0 and 10.0 are Brammo's answer to many of the complaints motorcycle riders have about the current production electric motorcycles, a full embrace of the market for race inspired electric sportbikes and a continuation of their consumer electronics industry inspired philosophy of rapidly delivering better technology for less money.
All three Empulse models have a 100 mph+ top speed, a 60% improvement over the Enertia's 60 mph top speed. No more anxiety about riding in the right lane with no go-juice on tap. The $9,995 Empulse 6.0 has a 60 mile range, the $11,995 Empulse 8.0 has an 80 mile range and the $13,995 Empulse 10.0 has a 100 mile range. No more range anxiety and with tax credits in some states bringing the price of the Empulse 10.0 down to $7000, much less financial anxiety.
On top of all these game changing improvements, the Empulse looks amazing. Brammo once again captured the essence of classic internal combustion motorcycles in an electric motorcycle in which the rotor in the motor is only rotating or oscillating part north of the drive chain. Don't get me wrong, I have always loved the look of the Enertia. But the exposed motor and batteries of the Empulse will have all the lucky Enertia owners hunting for ways to drop the side panels.
Brammo knows that electric drive is sexy and all motorcyclists, electric enthusiasts or not, want to see the goods! Most of the influence appears to be cafe racer / street fighter. The lines of the tank and tail section remind me of a Ducati MH900e. A modern streetfighter headlight sits below a familiar Enertia instrument cluster and clip-on handlebars. High foot pegs and a beautifully detailed but equally high single seat complete a very aggressive riding position. Brammo logos are cleverly incorporated into the metal work as discretely as an HFL watermark. (where's Waldo anyone?)
Underneath the game changing specs and sexy looks it appears Craig, Adrian, Brian, Aaron and gang have taken the TTR electric race bike that placed 3rd in the 2009 TTXGP and used it as a starting point of the Empulse prototype. Just like the TTR, the Empulse has 8 battery packs and a PERM PMS 150 W brushless, permanent magnet, AC synchronous motor. In the end, the "AK-Gas" sticker on the bottom of the Triumph Daytona 675 forks is a dead giveaway that this prototype is a TTR turned streetbike.
Let's assume I'm right and production version of the Empulse retains the same battery pack and motor as the TTR. The Brammo Digital Powertrain will be a minimum of 110 Volts AC. "Brammo Power" will include Lithium Colbalt batteries that spin the motor to a continuous power of around 20 kW with peak power of 30 kW. This brings us 53 lb-ft of torque and 38 bhp through most of its 6000 rpm rev range. The weight of the bike might be in the high 3oo lbs range. Check out the comprehensive Brammo TTR article on Motorcyclist for more specifications on the TTR to continue this educated guessing game.
How can we expect this prototype to translate to a production version? The front calipers on the Empulse are Nissin instead of Brembo. Some pictures show the Empulse with the unmistakable Elka rear shock while others show a beefier unit that I can't identify. It's probably a good guess Brammo is finding ways to cut costs and build a bike that does not over deliver in places it does not need to. Brembo calipers are beautiful and lust-worthy but probably arn't helping move Enertias out the door. No doubt Brammo's success is affording them new found buying power when dealing with vendors.
Expect the high end Marchesini's to be replaced by more reasonably priced wheels. The bike could also easily accept a set of handlebars and lower pegs for a more upright riding position. Could we see multiple riding positions in the model range? How about geek stoking user configurable power maps, open API and the wifi connectivity Brammo has hinted at?
In the press release copied below Brammo also mentions their intent to move beyond Best Buy a and online ordering for their distribution model. They are accepting applications from traditional dealers around the globe. Have a look at the press release, browse the pictures and watch the video and let me know what you think. Did Brammo nail it with the Empulse trio?
Breaking Down The 2011 Empulse
The 100 mph top speed of all three Brammo Empulse models is a 60% improvement over the Brammo Enertia and it's competition
Empulse 6.0 = 60 mile range for $9,9995
Empulse 8.0 = 80 mile range for $11,995
Empulse 10.0 = 100 mile range for $13995
After tax credits in some states the Empulse 10.0 could end up costing you $7000
Brammo wants to get back into electric motorcycle racing
The Empulse continues a rapid progression of technology for less money.

9/18/2009 $11,995 Brammo Enertia
11/09/2009 $7995 Brammo Enertia
Mid 2011 $9,999 Brammo Empulse 6.0
Brammo Announces the Empulse – a Trio of Electric Motorcycles Exceeding 100 mph, Including a Model That Can Travel up to 100 Miles on a Single Charge, With Prices Starting at $9995
ASHLAND, Ore., July 15 /PRNewswire/ — Brammo, Inc. announced today it will begin production of an electric sportbike, calling it the "Empulse." Brammo demonstrated a pre-production prototype today and all three production models of the Empulse will be capable of sustaining 100 mph. The three models will have different battery capacities, all utilizing an innovative proprietary array, the Brammo Power™ battery and vehicle management system. The Empulse is available for immediate order and deliveries will commence in 2011.
Craig Bramscher, Founder and CEO of Brammo, said, "Motorcycle riders have been requesting increased speed and range and I am proud and delighted to reveal these game-changing Brammo electric motorcycles. Our customers expect Brammo to design and produce the world's most exciting (and affordable) electric motorcycles and that's exactly what we have done." Bramscher continued, "Today's announcement promises no more range anxiety for Brammo customers."
The Empulse Trio
All three models of the Empulse will be freeway capable and will enjoy a top speed in excess of 100 mph. Each of the three models will offer customers a different average range from a single charge. The Empulse 6.0 is capable of 60 miles (96 kilometers) average range, the Empulse 8.0 is capable of 80 miles (129 kilometers) average range and the top of the line Empulse 10.0 is capable of a travelling 100 miles (161 kilometers) on a single charge. Range of all three models can be extended by travelling at lower speeds.
The estimated MSRP for the Empulse trio when deliveries start next year are; Empulse 6.0 $9,995, Empulse 8.0 $11,995 and Empulse 10.0 $13,995. All three models will be eligible for Federal and State tax incentives. For example, the Empulse 10.0 may cost as little as $7,000 in certain states after Federal and State incentives.
Empulse Technology
Today's announcement sees the first application of Brammo's innovative Brammo Digital Drivetrain™ including the Brammo Power™ battery pack and Brammo Power™ vehicle management system. Brammo's breakthrough in price/energy density is at the heart of today's announcement and is unequalled in the electric vehicle industry. The Empulse is also the world's first production electric motorcycle to have a water cooled motor.
Brian Wismann, Director of Product Development at Brammo and designer of the Empulse, said, "The Empulse reveals the significant price performance that we can deliver using Brammo Power™ technology. Just like it did with the Enertia Powercycle, Brammo has again raised the bar in terms of electrical drivetrain innovation and time to market."
Empulse Availability
Customers can place their order for an Empulse by visiting the Brammo website www.brammo.com . Deliveries are expected to commence in mid-2011 and orders will be filled on a first-come, first-served basis. Customers placing an order will be expected to place a refundable deposit once their Empulse is within 90 days of delivery. The Brammo range of motorcycles will be available globally through select motorcycle dealerships and participating Best Buy stores during 2011.
Brammo Distribution
Brammo is expanding its dealership network both within the USA and in Europe and Asia. Organizations interested in selling and servicing the Brammo range of motorcycles, which includes the award winning Enertia, can register their interest by visiting www.brammo.com/dealerapplication
Adrian Stewart, director of Sales and Marketing at Brammo, said, "We are always looking for individuals and organizations that want to enter into a long term business partnership with Brammo to sell and service our range of electric vehicles. JCAM, our distributor and dealer in Hong Kong and Singapore is an excellent example of such an organization."
Forged in the Heat of Competition
Brammo Power™ technology employed in the Empulse is race proven in the Brammo Empulse RR race bike. You can see the Empulse RR in action at the 2010 Red Bull Grand Prix, Mazda Raceway Laguna Seca. Brammo will race the Empulse RR in the FIM e-Power series which will see 15 electric motorcycle teams from around the world compete on this demanding circuit.
Meet the Empulse
Brammo CEO Craig Bramscher will be unveiling the Empulse at the 2010 Red Bull Grand Prix at the Mazda Raceway Laguna Seca in Monterey, California, 11.15am, Saturday July 24th 2010.
Later this year the Empulse will be at EICMA Milan, Italy and at the Macau Grand Prix, China.
About Brammo
Brammo, Inc. is a leading electric vehicle technology company headquartered in North America. Brammo designs and develops electric vehicles including the award winning Brammo Enertia motorcycle. Brammo is an OEM supplier of its innovative Brammo Digital Drivetrain™ systems including the Brammo Power™ battery pack and Brammo Power™ vehicle management system. Brammo has vehicle distribution and marketing operations in North America, Europe and Asia.
Brammo Empulse Video
Brammo Empulse Pictures
Posted on July 15, 2010 at 8:43 am by
John Adamo
·
Permalink
In:
Brammo
,
News
· Tagged with:
10.0
,
2011 Brammo Empulse
,
6.0
,
8.0
,
Brammo Digital Powertrain
,
Brammo Power
,
Brammo Power Battery Pack
,
Brammo TTR
,
Bramscher
,
Empulse 10.0
,
Empulse 6.0
,
Empulse 8.0
,
ev motorcycle
,
prototype