Tork India Victorious At Snetterton TTXGP
Tork India took first place in the opening round of TTXGP UK series at Snetterton this weekend. This win was somewhat of a surprise as their mostly new 2010 T002X electric motorcycle had never been tested under race conditions. Issues getting their bike onto the Isle Of Man kept team leader Kapil Shelke and his team from racing TT Zero while Team Agni, ManTTx and Kingston University were able to complete a full weekend of testing under race conditions.
During practice on Friday, Tork India managed to sort all mechanical issues including a ground clearance issue with the Battery Management System (BMS) mounting location and a blown motor. Some suspension tweaks and tire changes had them qualifying second fastest on Saturday, the day before the race.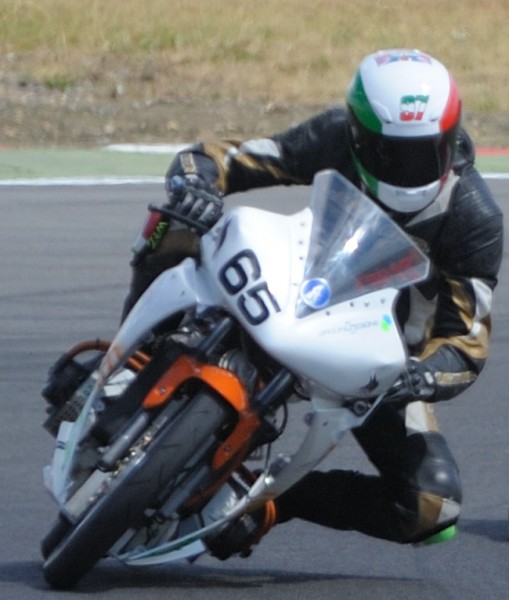 How did these guys pull off the upset in Sunday's final? First off, the teams of TTXGP are a rather helpful group of people in general. Cedric Lynch and Arvind Rabadia of Team Agni pioneered the dual Agni 95R drive setup and have been extremely generous helping other teams adopt the technology. Kapil and team have been chatting with Team Agni since the 2009 TTXGP at Isle Of Man and they are quick to give these guys credit for the help. Steve from Mavizen also stepped up to give Tork a replacement 95R after the practice session failure. Kapil also credits the skills of rider Jim Lovell for charging hard into turns with weak, under powered brakes.
Having a close look at the bike gives other clues. Tork India uses a very narrow 95 front tire and a 115 rear tire. This may have helped Lovell achieve the top speed advantage he had in the straights and allowed him to out accelerate the GSXR based Agni bikes out of the turns. The narrow profile of the bike and the open fairing allowed plenty of air to flow to the Agni 95R's keeping them cool and running efficiently.
It seems this win could have Team Agni rethinking the apparently over built GSXR chassis or even thinking about streamlining as they did in TT Zero for higher top speed.
Kapil sums up the formula for success this way:
We are just showing the world the Indian way of doing things. You don't need to spend a fortune to achieve something. Simple design and bike made from batteries, controllers from spares what Team Agni had. We just implemented with what we had and worked on our limitations.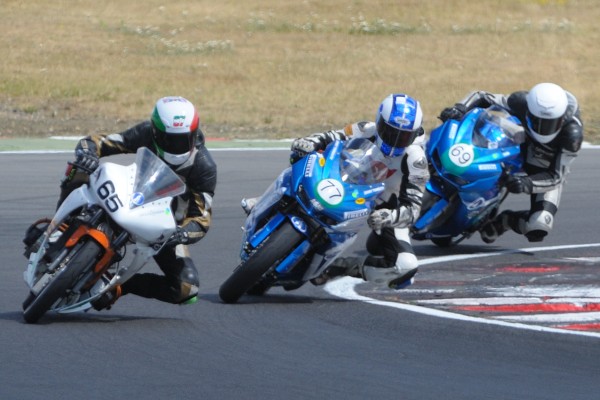 In the end, Tork's win was a well deserved and a strong nod toward hard work, smart engineering, perseverance and the value of good friends.
See the final results below. The race times tell the tale of the close battles between Jim Lovell on the T002X and Rob Moon and Jenny Tinmouth on the two Agni bikes. Be sure to check out the race on ESPN this week if your in the UK.
| Number | Team | Time |
| --- | --- | --- |
| 65 | Jim Lovell on Tork India T002X | 14:57.31 |
| 69 | Rob Moon on Team Agni | 15:03.44 |
| 77 | Jenny Tinmouth on Team Agni | 15:04.44 |
| 68 | Pete Ward on Electric Hussar TTX02 | 15:14.34 |
| 63 | James McBride on ManTTX Racing | 15:47.20 |
| 62 | Adam Palferman on Kingston University | 16.29.84 |
| 61, 16: | Annie Seel on Morris Motorcycles Racing Team (MMRT) TTX02 | 16:03.50 |
| 66 | Harry Hardi on LiFeBATT/Kingston | 15:00.22* |
| | | *I am assuming this time was a typo on eGrandPrix. |
| | | |
| 64 | Russell license on MRB racing | DNF - retired at lap 7 |
Photo Credits: Dipam Patel and eGrandPrix
Posted on July 13, 2010 at 10:23 am by
John Adamo
·
Permalink
In:
Racing
,
TTXGP
· Tagged with:
2010 TTXGP UK
,
Jenny Tinmouth
,
Jim Lovell
,
Kapil Shelke
,
Racing
,
Rob Moon
,
Snetterton
,
Team Tork
,
Tork India
,
TTXGP UK series