US Highland Announces Magnetronic Hub Motor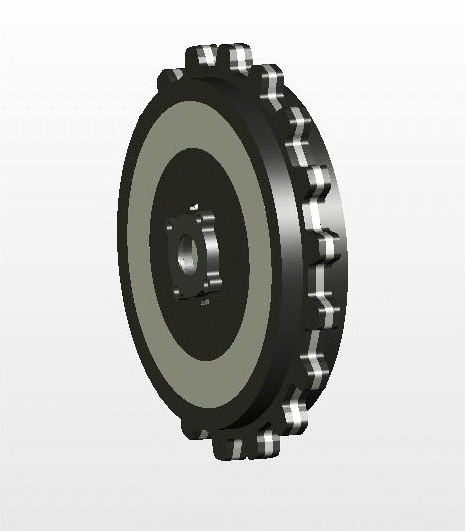 Today,  Oklahoma-based US Highland announced an electric hub motor for use in electric drive powersports applications. They have been working on this "magnetronic" motor for the last 2 years with a company called Millennial Research. Millennial Research, who appear to be owned by US Highland, claims the motor will consume up to 70% less battery power than the competition while weighing 40% less. While they don't mention who "the competition" is, we will have to see how the motor measures up against current favorites such as the MotoCzysz D1-10, the Enertrac Hub motor, Agni 95R and an AC-20 when it shows up on a motorcycle.
I stumbled upon details of the motor back in February 2010 when it was mentioned by a company called Dynamic Solutions Research. I could not not find any information on what "magnetronic" technology is. If you know, please leave a comment as I would love to learn more about it.
It is great to see another US based powersports company enter the expanding electric motorcycle industry. many electric motorcycles companies are bypassing the dealer network and doing direct sales with mixed results. US Highland's non-conventional, dealer based network that allows customers to order their bike on a kiosk after test riding a demo machine may prove to be a great way to sell electric bikes.
To find out more about US Highland and their innovative dealer network, factory spec production bikes and long history check out my posts on OtherMakes.net. The full press release is after the break.
GLENPOOL, Okla., July 1, 2010 (GLOBE NEWSWIRE) — US Highland, Inc. (OTCBB:UHLN) a U.S. based designer and manufacturer of high performance, premium quality Motocross, Supermoto, Quad and Enduro motorcycles, announced today that the Company in conjunction with its Joint Venture partner, Millennial Research Corporations, has completed a new revolutionary hub motor (electric engine) based on its patented magnetronic technology. US Highland has the exclusive rights to utilize the engine and technology for powersports applications.
"We are very excited about the possibilities this electric motor technology adds to our company. This puts US Highland at the forefront of the green technology movement within the powersports industry. We have worked with our partner Millennial Research Corporation on the development of this engine for over two years. It is now finally ready for commercial applications, " commented Mats Malmberg, President of US Highland, Inc.
Dennis Palmer, Founder of Millennial Research Corporation, added, "Our revolutionary magnetronic motor technology is broadly applicable across many industries and markets. This powerful magnetronic motor designed for US Highland will require as much as 70% less battery usage for the same run time and weigh as much as 40% less than the existing competition. This a real game changer for the use of electrical engines in power sports."
About US Highland, Inc.
US Highland, Inc., is a US based designer and manufacturer of high performance, premium quality Motocross, Supermoto, Quad and Enduro motorcycles. The Company is also a leading development and engineering partner for leading OEM's around the world. For additional information concerning US Highland Inc., visit www.ushighland.com.
About Millennial Research Corporation
Millennial Research Corporation is the developer and patent holder of the unparalleled and revolutionary patented magnetronic electric motor technology, which represents the first substantial change to the electric motor since the industrial revolution. Millennial Research Corporation has a full suite of additional patent applications now pending to further protect its IP and is pursuing patent protection worldwide. For additional information concerning Millennial Research Corporation, visit www.millennialresearchcorp.com
Forward-looking Statement:
This release contains forward-looking statements within the meaning of Section 27A of the Securities Act of 1933, as amended, and Section 21E of the Securities Exchange Act of 1934, as amended. All forward-looking statements are inherently uncertain as they are based on current expectations and assumptions concerning future events of future performance of the company. Readers are cautioned not to place undue reliance on these forward-looking statements, which are only predictions and speak only as of the date hereof. In evaluation such statements, prospective investors should review carefully various risks and uncertainties identified in this release and matters set in the company's SEC filings. These risks and uncertainties could cause the company's actual results to differ materially from those indicated in the forward-looking statements.
Below are some pictures of US Highland's trick works spec bikes.
Posted on July 1, 2010 at 10:09 am by
John Adamo
·
Permalink
In:
Electric Motors
· Tagged with:
brushless
,
DC
,
Dennis Palmer
,
Dynamic Solutions Research
,
Hub Motor
,
magnatronic
,
magnatronic hub motor
,
magnetronic
,
Mats Malmberg
,
Millennial Research
,
OTCBB:UHLN
,
permanent magnet
,
UHLN
,
US Highland