MotoCzysz Wins The 2010 IOM TT Zero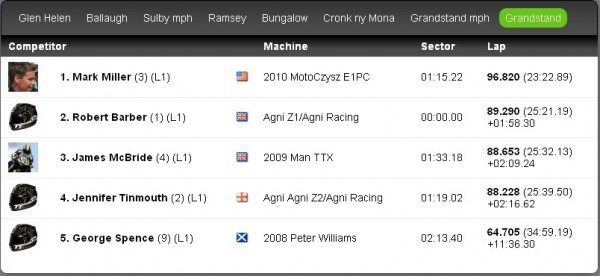 Mark Miller and MotoCzysz took top spot at the Isle Of Man TT Zero zero emission race today.Though disappointed at barely missing the 100 mph average lap time, Miller stuck to the game plan to cross the line with some battery power in reserve. It turns out that game plan was smart, as second place finisher Rob "Bullet" Barber on the Team Agni Z1 had plans to push MotoCzysz hard right from the start in an attempt to make Miller go too hard trying to catch up.
Jenny Tinmouth on the second Agni bike (Z2) had a great seesaw battle with James McBride on the ManTTx machine. Jenny's dustbin free Agni was faster than the ManTTX showing more low end power. McBride was geared high and was able to close the gap on Jenny in the straights and ultimately took third place.
George Spence on the #9 Kingston University bike came across the line in fifth place which is fantastic considering their DNF in the 2009 TTXGP at the Isle Of Man.
DNF's included Peace eRider who dropped out at the Sulby Straight. SERT Racing, which had motor issues in the first practice session, stopped at Ramsey. Last year's third place rider Mark Buckley did not finish either. He was riding the new Ecolve Bolt TT entry. HTBlauva and Evo Design were non-starters.
Hit the break to watch the TT Zero post race press conference.
It sounds like Team Agni is very happy with the effects of the streamling they have implemented on the 2010 Z1 and it's here to stay. Mark Miller was stoked to hear the US National Anthem as he stood on the podium. Listen to the video below for more comments from the top 3 finishers. Congrats to all TT Zero teams!
Posted on June 10, 2010 at 1:32 pm by
John Adamo
·
Permalink
In:
Racing
,
TT Zero
· Tagged with:
2010 TT Zero Results
,
Electric Motorcycle Racing
,
Isle Of Man TT
,
Jenny Tinmouth
,
Mark Miller
,
press conferance
,
results
,
Rob Barber
,
Team Agni
,
TT Zero
,
Video
,
Z1
,
Z2