Team Ecolve Enters The 2010 TT Zero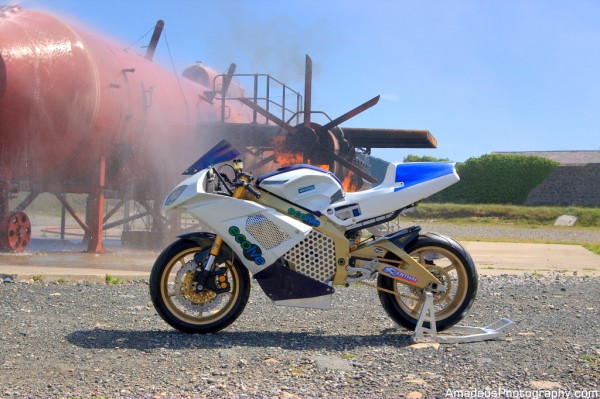 The UK based Ecolve team has set up camp in the TT Zero pits and with the help of Amadeus Photography introduced their electric race bike to the world in style. The shots you see here were taken at an airfield on the Isle Of Man with the fire department adding some nice visual effects.
Mark Buckley finished third in the TTXGP at Isle Of Man in 2009 aboard the Brammo TTR, a modified Brammo Enertia. Brammo will not be taking part in the 2010 TT Zero but Buckley found a ride with the Ecolve Bolt team and has been working with them to prep the bike for a win.
The bike is built on a Motorhispania RX125 chassis and a mix of OEM plastic provide wind protection. It has a Liquid cooled 30 kW constant Perm motor powered by Lithium ion batteries. The battery pack is managed and liquid cooled for optimal performance. Top speed of the bike is over 100 mph but no hard numbers are given.
Alex Herman explains in the video below that  a 90 volt production version of the Ecolve Bolt will show up later this year.  It will use Thundersky LiPo batteries and a PG Motors controller. They claim this "affordable" bike should be capable of 150 mph and have a range of 50 miles at that speed though that seems extremely optimistic. Some may say impossible with the specified drive components. Of course, I'm sure the planned "Pan-European" market would welcome a fast affordable electric sportbike to the market.
Update: Alex Herman of Ecolve supplied the following corrections and additions…
30kw liquid cooled motor
72v watercooled battery system running CANBus diagnostics producing 200ah
Forced air cooled 72v controller.
Range at 30mph 150 miles
Top speed estimated at 120-130mph
The road version due out in September will be using the same drivetrain as Mark Buckleys Bolt TT Zero bike and estimate price to be from £12,995 – £19,999 depending on how many batteries the customer requires.
We also have a Bolt WR spec which we will use to try and set some world records with later in the year for both speed and endurance.
Source: Amadeus Photography and Ecolve
Posted on June 3, 2010 at 11:47 am by
John Adamo
·
Permalink
In:
Racing
,
TT Zero
· Tagged with:
2010 TT Zero Teams
,
Alex Herman
,
Ecolve
,
Ecolve Bolt
,
Electric Motorcycle Racing
,
IOM TT
,
Isle Of Man TT
,
Mark Buckley
,
Motorhispania
,
Perm
,
Racing
,
teams
,
TT Zero
,
UK
,
United Kingdom