SERT Racing's Bumblebee In The TT Zero Pits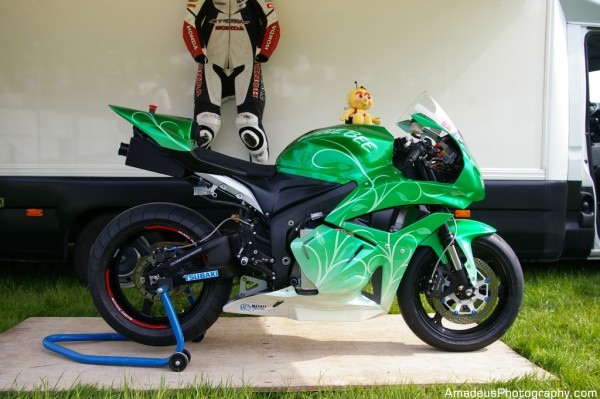 The 2010 Isle Of Man TT is ramping up with bikes filling the pits and practice laps starting around the island. One of the first teams in the TT Zero pits is the Swedish Electric Racing Team (aka SERT Racing) with their Bumblebee electric race bike. Technical information on the ex-Stiggy Racing CBR600RR conversion is scarce but the green-theme paint job is top notch. The faux underseat exhaust and stuffed bumblebee mascot hint at a great sense of humor of the team. Chris Palmer will ride the Bumblebee when it hits the track for practice and the race on June 9th.
Frank of Amadeus Photography is already on the streets snapping pictures of the two teams currently in the TT Zero pits. Expect pictures of the Ecolve Bolt tomorrow followed by MotoCzysz and Team Tork when they arrive.
In 2009 Frank was the goto guy for IOM TT pics and 2010 is shaping up to be the same. Might want to bookmark the site or subscribe to the RRS feed. Jump to Frank's blog and the SERT Racing website for more information on the Bumblebee and the people behind the project. Sounds like Frank has some plans for a photo shoot with the team tomorrow so stay tuned.
Hit the break for some TT Zero history, Franks' pics of the SERT Racing TT Zero bike and some videos of the Bumblebee in action.
If you're late to the game, in 2009 the electric category of the Isle Of ManTT was called TTXGP and was run by everyones favorite electric race promoter Azhar Hussain and his eGrandPrix group. After the race became a huge success and drew more media attention than anyone imagined, Azhar and TTXGP were dismissed from organizing the 2010 event. TT Zero took the place of TTXGP and like the rest of IOM TT it is being run by ACU Events Ltd. and the Isle Of Man Department Of Tourism and Leisure. It seems the reason behind the split will never be known but feel free to dig in and read both sides of the story.
Source: Amadeus Photography and SERT Racing
Posted on June 1, 2010 at 9:54 pm by
John Adamo
·
Permalink
In:
Racing
,
TT Zero
· Tagged with:
2010
,
2010 TT Zero
,
Bumblebee
,
Chris Palmer
,
Electric Motorcycle Racing
,
IOMTT
,
Lars Nilsson
,
Racing
,
SERT Bumblebee
,
SERT Racing
,
Stiggy Racing
,
Swedish Electric Racing Team
,
teams
,
TT Zero
,
TT Zero Teams