Electric Race Bikes EGP TTXGP Entry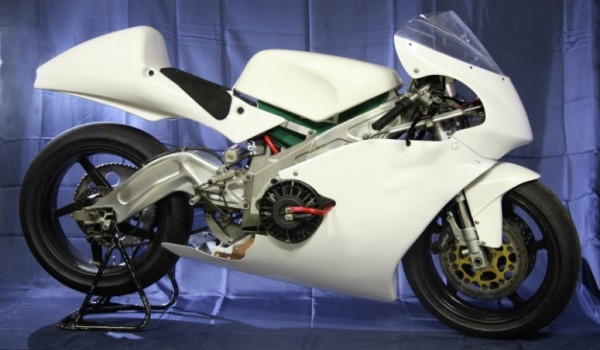 The folks at Electric Race Bikes chose the simple and lightweight approach to an electric race bike. They converted some type of 125cc-two-stroke-looking rolling chassis to electric using two Agni 95R motors and 7.6 kWh of LiFePO4 batteries. If you know the frame let me know. They didn't tell me and no one on twitter knew which is unusual.
The total package including Sevcon DC to DC converter and and before putting rider Mike Hannas on top is a feathery 320 lbs. The team plans to be on the grid for all 4 North American TTXGP races.
By day the Electric Race Bike guys sell EV parts such as the Agni 95R that will power their bike for the low price of $1199.99 USD and free shipping to the USA. If your in the market for an Agni throw some cash their way and help support the TTXGP grid.
For more information check out the Electric Race Bikes racer profile on TTXGP website.
Posted on May 12, 2010 at 4:45 pm by
John Adamo
·
Permalink
In:
Racing
,
TTXGP
· Tagged with:
2010 TTXGP Teams
,
Electric Race Bikes
,
Epic Engineering
,
Gerry Piazza
,
Mark Kully
,
Matt Dieckmann
,
Mike Hannas
,
Risse Racing
,
Sevcon
,
TTXGP
,
TTXGP North America Championship