Roehr eSuperBike Sneak Peak Pictures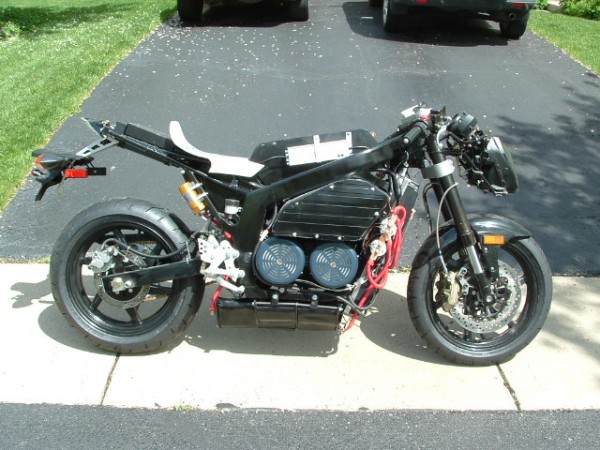 Walter Roehrich posted pictures of the Roehr eSuperbike on Elmoto.net yesterday. The bike clearly shows 2 AC Induction motors and some nicely packaged batteries and electronics. Walter explained that he would have liked to have the bike ready for the Infineon TTXGP opener this weekend but some delays with the body work and other issues prevented this. Roehr is still planning on a summer 2010 delivery and announced two new dealers. Hollywood Electrics in Hollywood, CA and Ethical Approach in San Jose, CA.
Three eRoehr models will be available at an estimated $16, 965 for the eSuperSport, $27,595 for the eSuperbike and $34,495 for the eSuperBikeRR. Check out Elmoto and the Roehr Motorcycles website for more information.
Roehr eSuperBike RR Specifications:
Twin AC Induction Motors
96 HP
210 Lb/ft of Torque
Single speed transmission
Suspension:
Ohilins 43 mm inverted front forks
Ohlins Single shock with linkage rear
Aluminum racing wheels:
3.5 x 17 Front
6.0 x 17 Rear
Brakes:
Brembo 2 x 320mm front rotors
Brembo 2 x 4 piston radial mount front calipers
Tires:
120/70/17 front
190/55/17 rear
Batteries:
Large format Lithium-Iron phosphate cylindrical
Capacity: 9.6 Kw/h
96 Volts/ 100Ah
Battery Management System:
LVC, HVC, Shunt balancing
On- board 10amp charger
Overall weight: 500 lbs.
Source: Elmoto.net
Posted on May 10, 2010 at 9:23 am by
John Adamo
·
Permalink
In:
News
,
Roehr
· Tagged with:
electric race bike
,
eRoehr
,
eSuperbike
,
eSuperBike RR
,
eSupersport
,
Roehr
,
Roehr eBike
,
Roehr electric motorcycle
,
Roehr Motorcycles