K Squared Racing's Zero S TTXGP Bike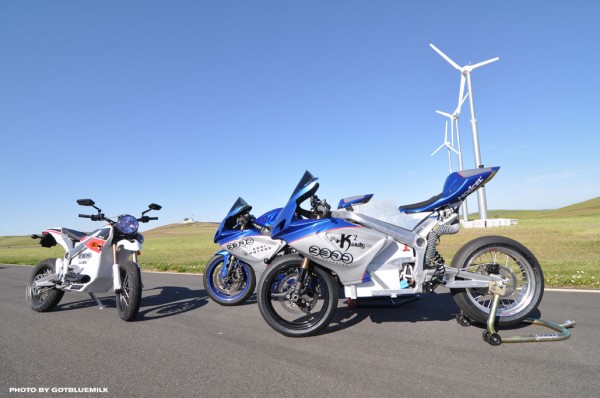 Zero Motorcycle's Electrical Engineer Kenyon Kluge was out at Thunder Hill Park Raceway testing his K Squared Racing Zero S last week. Kenyon decided to get in the TTXGP mix late and did a great job modifying the Zero S for race duty in a short amount of time. The K Squared S retains the stock rear wheel but the forks and front wheel are borrowed from a Suzuki GSXR1000. AfterShocks Suspension did the suspension work and is one of Kenyon's sponsors.  The battery charger was removed and more batteries were added for more energy and a higher pack voltage. The body work is from a 2007 GSXR600 with some metal work covering the battery pack expansion.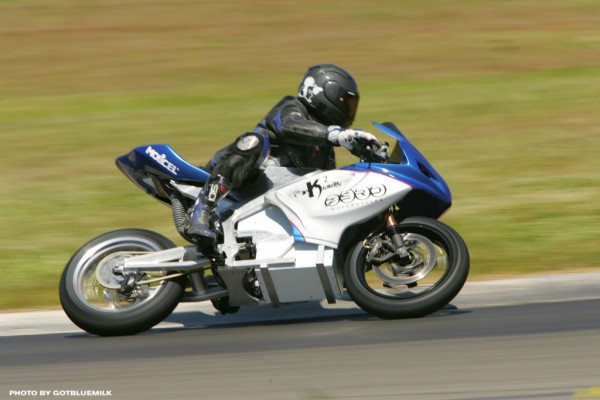 Here is a summary of last week's track testing from Kenyon…
The testing went really well. We ran the bike all day and identified all the improvements we want to make. We have a stable reliable motorcycle now and I think with a few tweaks we can get more performance from the bike. We are working over the weekend to have the updated bike ready for next week. The chassis was outstanding and we could carry very high corner speeds. You could just tap the brakes lightly and then throw it over into the corner and it held its line very well. Our range is going to be very close for the race distance but I think we can do it. We are trying to get a little more power and slightly higher top speed from it. I was really pleased with how the testing came out.
Zero Motorcycles and Agni Motors also sponsor the K Squared team. Kenyon plans to use what he learns on the track to make the Agni-powered production Zero S an even better product. Currently the Zero S is the only production supermoto electric motorcycle, so this research should give Zero an even larger lead in this untapped electric drive niche.
The bike on the other side of the trailer is most likely the GSXR Asphalt And Rubber mentioned was pacing the K Squared Racing Zero S at Thunderhill. Kenyon will be no stranger to Infineon when he hits the track next week for the first race of the 2010 TTXGP season. He used to race as a privateer in AMA Formula Xtreme and finished 15th for the season. In 2001 he was the AFM 750 Production Champion. K Squared will have some serious competition in TTXGP so they are looking for sponsors to bring the bike to the next level. Give Kenyon Kluge a shout if you are interested in this unique opportunity to go electric racing.
K Square Racing is just one more reason to hop a plane to California next weekend and check out the 2010 Moto Jam and TTXGP. Get your discount tickets to history in the making here.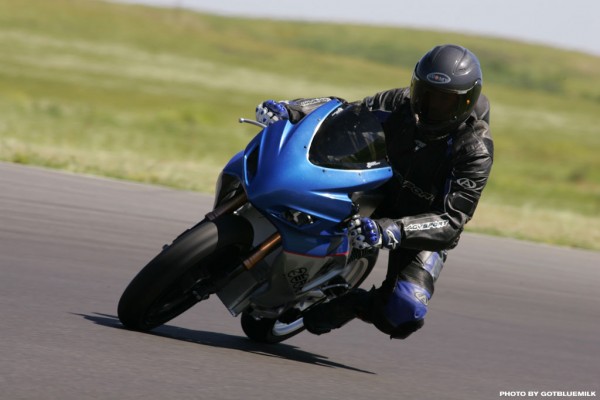 K Squared Racing Resume
Overview
K Squared Racing is a team consisting of one primary rider, Kenyon Kluge who competes in a number of different racing disciplines. Some of the accolades for K Squared racing are, 2001 AFM 750 Production champion, ranked 15th in AMA Formula Xtreme 2002 championship, 4th in AFM 450 Superbike 2005 championship, and 2008 US Cycling Sport Class National DH champion. Kenyon has been racing for 13 years and has also been an electrical engineer for the same amount of time. Kenyon worked for networking and microchip companies for most of these years but in 2008 he merged his two professions becoming an electrical engineer at Zero Motorcycles.
The TTXGP allows Kenyon and K Squared Racing to race the product that he has been working on for the past two years. Zero Motorcycles is committed to the race and will be supporting K Squared Racing with sponsorship for its privateer entry in to the race. The K Squared Racing entry will be very similar to a production Zero S with some minor modifications for racing. Agni motors will be another primary sponsor providing the same motor equipped on every Zero S motorcycle. The suspension and chassis setup will be provided by AfterShocks Suspension.
This opportunity offers the possibility to explore new technology that may work its way into the motorcycles that Kenyon designs on a daily basis. Racing breeds better technology, excellent camaraderie and pushes riders and engineers to their limits.
Kenyon will bring the knowledge of what it takes to organize a winning team. AfterShocks will be providing the chassis that are needed to win. We are looking for companies to provide the remaining ingredients it takes to keep a team of this caliber running smoothly and that want to be a part of this winning combination. Contributing organizations will enjoy being a part of a team that has a professional presence in the pits, in the motorcycling community, and throughout the industry.
Rider Profiles
Name: Kenyon Kluge, 2001 AFM 750 Production Champion
AFM #: 96
AMA #: Superbike 198, SS 198
Age: 36
Date of birth: November 22, 1973
Birthplace: Los Angeles, CA
Height & weight: 5′ 10″; 180 pounds
Hometown: Santa Cruz, California
Hobbies: Dirt biking, rock-climbing, mountain biking, and surfing
Race Bike: Suzuki GSXR 600, Zero Motorcycles S
AFM race classes: 600 Superbike, 600 Production
TTXGP Entrant
History and Goals
I was introduced to motorcycle racing in 1997. I got my license and competed in the last race of the AFM season. This was the beginning of the long road of learning and mastering the many aspects of road racing.
In 1998 I started my first race team named Terminal Velocity Racing. As team captain I learned the necessary skills to both race and run a successful team. The three years I spent with Terminal Velocity Racing where invaluable. Since we pursued sponsorship as a team it also helped me to learn sponsor relations and team promotion.
In 1999 I raced a 1998 GSX-R 750 and worked on getting as much track time as possible. I competed in all AFM events for the season and several WSMC events, with only on DNF for the entire season.
For the 2000 season I started a new program with an extensive off track training including, weight lifting, running, swimming, cycling, and dirt track riding that I have maintained since. This all paid off as I went from top 10 finishes to 4th place finishes, and qualified for my first AMA National event at Sears Point. At the AMA Willow springs race later in the year I was able to race to 20th and 22nd in 750 Supersport and Formula Xtreme.
In 2001 I started my second team, K² Racing, in the interest of changing my focus from running a team that helped out new racers to a team that won. With the focus on winning the goal for the 2001 season was to win the 750 Production championship in the AFM, but that turned out to be just a small part of what the season would bring. In the lead at the end of the season I did win the championship despite a broken ankle from a practice crash. Along the way I finished on the podium in 6 of the 8 races and finished 4th in the two that I was not on the box. At the AMA Sears Point race I finished 14th place and got allot of television time. I also qualified and finished 24th in front of 91,000 fans at the Laguna Seca AMA race. A photo of my crew and me was published in a photo documentary called "Fast Company". I had a letter published in the national publication Roadracing World. I was also quoted in 3 newspapers including the Santa Cruz Sentinel, the San Jose Mercury News, and The San Francisco Examiner. A review of all of my podium performances where published in a local motorcycle publication, City Bike.
In 2002 I took the next step and competed in the entire national AMA circuit. I competed in 10 televised professional events and learned a great deal. First I learned a completely new way of riding from going to 8 new tracks that I had never seen before. I learned to get up to speed on a new track very quickly and I think it helped my riding tremendously by forcing me to learn new strategies very quickly. I learned how to put together a professional level team including equipment, travel, support, and sponsorship. Furthermore I learned what it takes to have a large presence in this arena and promote my sponsors. I ended the season in 15th in the Formula Xtreme class which made me the second to top privateer in this class for the 2002 season. I got television spots during nearly every race, several of the California newspapers wrote multiple articles following my progress during the Laguna Seca race and I interacted with many fans as well as fans to be, during my 17,000 mile journey around the US. I also did a tremendous amount of promotion through pre and post season events.
Having learned how to ride in the professional arena, having won a championship with many podium finishes, and having accumulated much notoriety in the racing world, I am now looking to the 2010 season and I am right on track.
Contact Info
Kenyon Kluge
kkluge@ksquaredracing.com
Cell (831) 334-1347
www.ksquaredracing.com