TTXGP Entry Spy Shot | Markel IceWrap Superlattice Bike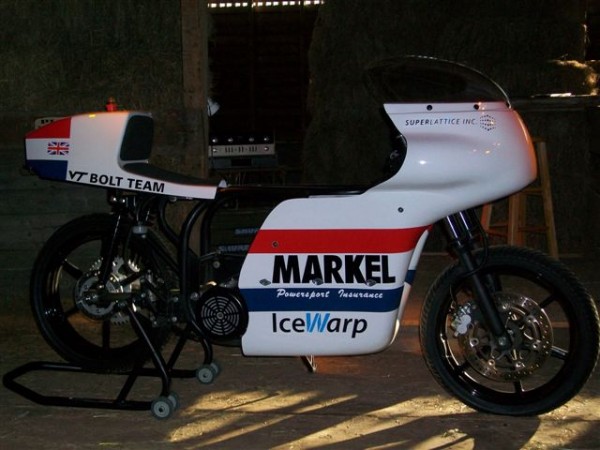 The deadline for entry to the 2010 TTXGP series has not past and only Mr. Hussain knows who is on the list but details are leaking ahead of the official lineup announcement.
I got a hold of a spy shot of an electric race bike with American sponsors taken inside a barn. Inside sources tell me this is a TTXGP entry that is yet to be announced. I don't have any evidence the Union Jack sticker has any more significance than to show the bike is built on a Norton Featherbed frame. However, maybe there are some UK partners or the bike may be competing in the TTXGP UK series? Not sure.
The proven and very spacious featherbed frame provided a very fast platform for Team Norton Electra at the 2009 eGrandPrix at Mid Ohio so we know what this team can do with this race-proven classic. More details as they are available but hit the break to learn more about the sponsors of this mystery entry.
It appears Markel Insurance Company is the main sponsor of the bike. Among the many forms of insurance they provide, powersports appears to be a niche of concentration. Markel is based in Glen Allen, Virginia.
IceWrap is a communication and collaboration solutions company based in Springfield, Virginia. They specialize in server based data center communications solutions.
Superlattice Inc. is based in Charlotte, North Carolina and specializes in battery cell packaging and battery management systems for Kokam and Lifebatt lithium ion batteries. These are two cell manufacturers used by various electric race teams in competition. Actually, Kokam powered the Team Agni bike to first place in the 2009 TTXGP. Superlattice also does web based data acquisition which could be very useful in a racing application.
As long as this is not an April Fools joke we should hear more soon.