KTM FREERIDE Electrics Break Cover *New Pictures*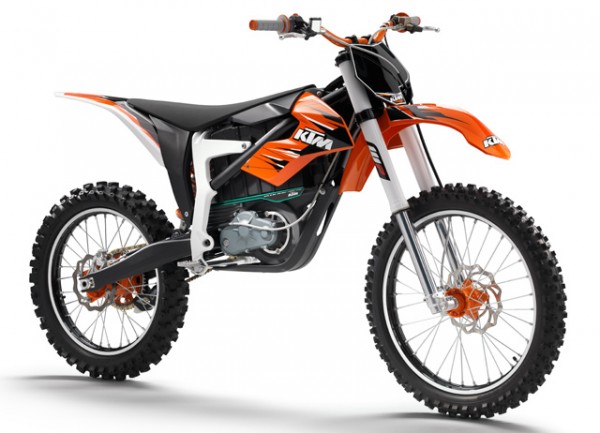 UPDATE: The KTM FREERIDE ZEM website is now live.
Yesterday a German magazine Das Motorrad leaked photos of the much anticipated KTM FREERIDE electric motorcycles. The electric supermoto and MX bikes were supposed to be unveiled tomorrow, March 24th in Japan. Now 1000ps.at has more pics and an interview with KTM.
The Austrian Institute of Technology developed the electric drive to withstand the rigors of offroad abuse. It appears to have some type of reduction built or primary drive between the motor and the front sprocket. The front and rear sprokets are both more compact than conventional MX setup and the chain appears to be more narrow.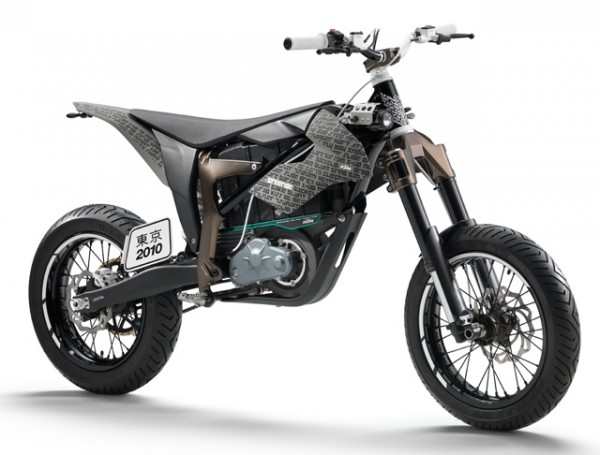 The KTM electric bikes are visually impressive. The large wheels and compact electric drive give the KTM an impressive ground clearance. The wheels appear to have rims that are more narrow than conventional dirtbike wheels. The hubs also look scaled down and have 4 disk mount holes compared to the 6 on a conventional front hub. These are most likely lighter and more compact versions of existing MX hub technology.
The bikes are also extremely narrow mostly due to the compact, hot swapable removable battery pack. The steel frame surrounds the battery so pack is most likely removed by lifting the seat. The rear shock is a linkageless unit true to KTM designs prior to the new 350's.
Despite claiming performance similar to a 125cc two stroke, on paper the KTM's are down on power from the Zero MX but slightly more powerful than the Quantya MX. Keep in mind the delivery of this power plays a big role in how electric motorcycle perform on the track. We have seen this lesson taught by Team Agni at Isle Of Man in 2009 and Quantya at Mini Moto SX last year.
The 2.5 kWh KTM battery pack has 500 recharge cycle life span hinting that it is Lithium Ion. However, it appears to be smaller than Zero's patented 2 kWh, environmentally safe battery pack which they engineered to stay cool. KTM also claims a 1.5 hour recharge time compared to Zero's "less than 2 hours".
Below is a rough comparison of the power and weight of the Quantya vs. Zero vs. KTM…
Quantya MX:
Torque: 23.23 ft-lbs (31.5 Nm)
HP: 16.09 HP (12 kW)
Weight: 195 lbs
Zero MX:
Torque: 50 ft-lbs
HP: 23 bhp
Weight: 126 lbs
KTM FREERIDE:
Torque: 33 ft-lbs
HP: 30 bhp
Weight: 198.4 lbs
The FREERIDE machines should go on sale late spring 2011 for 10,000 Euros. We should get more details on these trick looking KTM's tomorrow at the Tokyo Motorcycle Show.
Source: 1000ps.at, HFL Via: Electric Motorcycle Forum