Gas Gas TXT eTrail Pro Electric Trials Motorcycle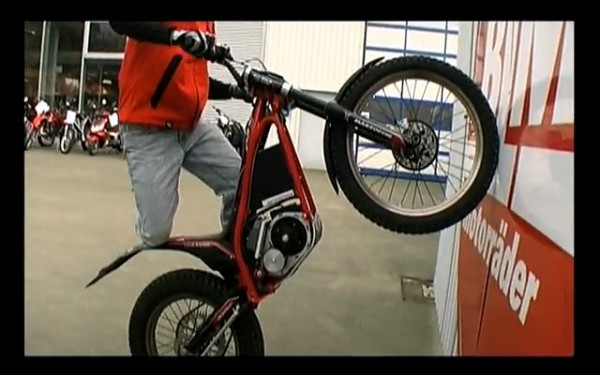 Austria's Gas Gas distributor BLM Motorrader converted a TXT Pro petrol engine Gas Gas to electric and had trials rider Dieter Rudolf take it for a ride over a few cars and crates. The motor looks like an Agni or Lemco but Google translation of the Motorrad-Reporter article mentions the motor is a brushless DC. Batteries of undisclosed chemistry are tucked nicely between the frame spars and everything is packaged nicely. The electronics appear to be nailed down enough for Rudolf to scale cars and wheelie with out too much drama. However, there was no mention that I could find of Gas Gas changing their name to Electric Electric and mass producing the bike.
Find out more and see the video of Dieter on the electric Gas Gas TXT after the break.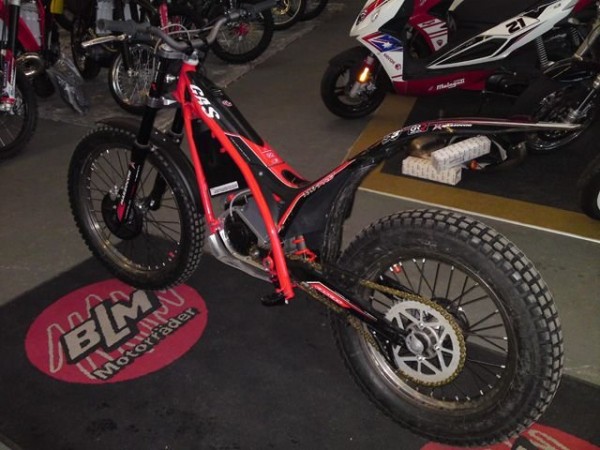 Observed Trials is a low speed test of balance and throttle control on a closed course. The Upper Midwest Trials Association explains trials this way:
Observed Trials is the cheapest and safest form of off-road motorcycle competition. It's easy to get into the sport, and you can compete at any level comfortable to your skills. The whole family can enjoy this form of riding. Most basic skills can be practiced in a small back yard. In the Advanced, Expert, and Champ classes, Trials can be as intense and challenging as any two-wheeled sport. Trials is not a race, but instead it is a sport that emphasizes balance, traction sensitivity, boldness, split second reactions, and execution of all of your riding skills. Trials will improve your riding performance and skill in any motorcycling activity. Think about giving it a try!
A quiet, cool running electric drive trials bike could join pitbikes in making the backyard the next frontier for motorcycling. The low energy density and reletively short range would not be a problem for low speed riding close to the truck or garage. OSET saw this potential and has been selling electric trials bikes since 2006, but for kids. However, no electric motorcycle companies are selling a full sized electric bike for the sport.
Trials riding is not as popular in the United States as it is in other countries but this may be a good place for some existing manufacturers to make their inevitable entry into the electric drive.
Source: Motorrad-Reporter Via: Electric Motorcycle Forum
Posted on March 16, 2010 at 9:26 am by
John Adamo
·
Permalink
In:
trials
· Tagged with:
Austria
,
BLM
,
Dieter Rudolf
,
Electric Electric
,
electric trials
,
Elektromotor
,
eTrial
,
Gas Gas
,
Motorrad-Reporter
,
trials
,
Video
,
Wolfgang Leitner