Zero Advertises On Cycle World iPhone App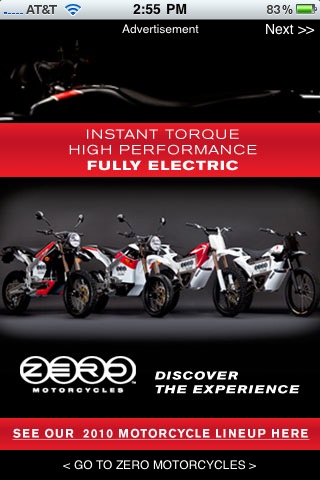 Zero Motorcycles recently mentioned on facebook they were advertising on Cycle World Magazine's iPhone app so I decided to check it out.
Zero Motorcycles: Have an iPhone? Zero Motorcycles is proud to be the first ever to have an interstitial on the Cycle World iPhone application! Go through the Apple iTunes application store to download it, and check it out, or find out more about on http://www.cycleworld.com
I have used the Cycle World app a few times and it actually very good. They did not over do it trying to be to high tech and the content seems to be updated fairly regularly. Nice job by Zero for finding new ways to advertise their new 2010 product line.