Swedish Electric Racing Team SERT Signs TT Zero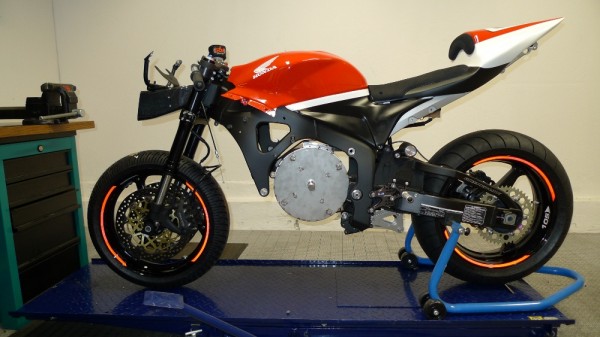 I wish I had more than the same press release everyone already posted but I can not find much more. I will update this post as I find information on Team SERT. That is one large motor and there will be lots of chain. It will be interesting to see where they put the batteries and controller but it looks like the start of a great bike. Best of luck to Team SERT!
UPDATE: Ivar Kvadsheim sent me the link to Team SERT homepage. Nice list of the team members here. Mats Nillsen of SERT is a TT rider his hompage is here.
24th February 2010

Swedish Electric Racing Team (SERT) confirm participation in TT Zero
– Experienced Former TT winner Chris Palmer signs up to ride for team

The Swedish Electric Racing Team (SERT) have confirmed that they will be taking part in the 2010 TT Zero for Clean Emissions Electric Motorcycles as part of the Isle of Man TT Races.

The team has been formed and is led by Lars "Lasse" Nilsson, a former motocross and road racing competitor. He has also been a mechanic in Endurance VM and STCC competitions. They have also brought popular former MGP and TT racer Mats Nilsson on board as the team TT liaison officer. The rest of the team includes Per "Backis" Backstrom (technical responsibility and chassis), Christoffer Alwen (Mechanical design and testing) and Project Manager Peter Rosenquist.

TT veteran Chris Palmer has been confirmed as their rider. Chris, 47, originally from Carlisle in England is now resident on the Isle of Man and has a very credible record with three wins and four podiums in the TT since his debut in 1990. He has been particularly successful in the lightweight (250cc) and Ultra-lightweight (125cc) classes.

The SERT team has bought Anthony West's Honda CBR600RR from the now defunct Stiggy Racing WSB team and are in the process of modifying it to incorporate an electric system.

Lars Nilsson commented:

"We bought the Honda CBR 600RR because the frame design is well suited to convert to an electric system and since the new parts are about the same weight and placement we expect the handling to be very similar to the original bike."

He continued:

"We are all really thrilled to be participating in the world's greatest motorcycle race although we have a lot of work between now and June to get the bike ready. The TT is the ultimate challenge for an electric motorcycle and we are looking forward to the task."

Hon Martyn Quayle, MHK, Minister for Tourism and Leisure, Isle of Man Government, commented:

"We are delighted to welcome our first Scandinavian team to TT Zero and are really looking forward to seeing them put their technology to the test around the Mountain Course."
Posted on February 25, 2010 at 10:04 am by
John Adamo
·
Permalink
In:
Racing
· Tagged with:
Anthony West
,
CBR600RR
,
Chris Palmer
,
Hon Martyn Quayle
,
IOM TT
,
Lars "Lasse" Nilsson
,
Lars Nilsson
,
Racing
,
Scandinavian
,
SERT
,
SERT Racing
,
Stiggy Racing
,
Sweden
,
Swedish Electric Racing Team
,
Team SERT
,
TT Zero
,
TT Zero Teams