MotoCzysz Supports TT Zero And Will Return To IOM For 2010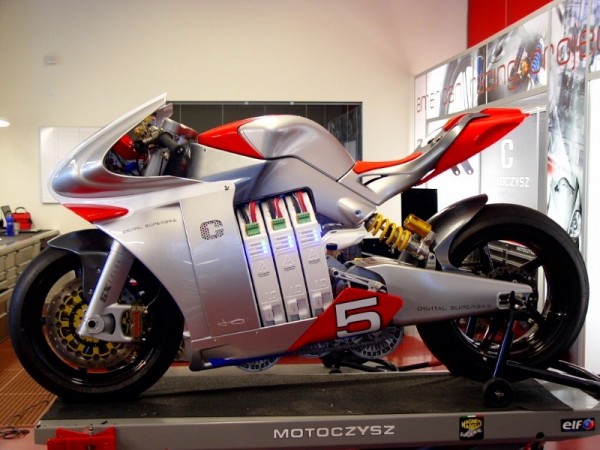 MotoCzysz confirmed today that they will race TT Zero at the Isle Of Man in 2010. The e1pc of 2009 has received many improvements including a "proprietary electric motor controller drive system". Michael Czysz also voiced his support for TT Zero being integrated into the TT program and called it "one of the purest prototype classes left in racing". In effect Czysz is voicing approval of the Isle of Man Department of Tourism and Leisure decision to start it's own series separate from Azhar Hussain's TTXGP who ran the event in 2009.
Last year the the stunning, 3 motor MotoCzysz e1pc was a favorite to win the all electric motorcycle race at Isle Of Man but did not finish the race due to motor issues. This year Czysz had a lot more time to prepare and no doubt will bring a much improved and solid machine. Rumor has it the bikes power will be much more impressive than last year which is saying a lot.
See the full press release after the break.
Clean emissions team return to try and record first 100mph lap around the mountain course

MotoCzysz, the motorcycle team founded by designer Michael Czysz, today confirmed that they would be returning to the Isle of Man in 2010 to participate in the 'TT Zero' Clean Emissions race which is part of the iconic TT races.

Their MotoCzysz E1pc electric motorcycle generated a huge amount of interest during the inaugural event in 2009 and was widely accepted as having a similar level of integration as a traditional race bike. The story of the team's 2009 Isle of Man campaign is heavily featured in the documentary 'Charge', shot by director Mark Neale, which will be on general release worldwide in cinemas in Summer 2010.

The team, based in Portland, Oregon in the United States is famous for developing a true innovative clean sheet motorcycle, the C1 990 race bike. They were scheduled to compete with their conventional race bike in the Moto GP championship until a change of regulation meant that the bike was no longer eligible.

The team's 2010 electric machine is already believed to have received significant improvements on their 2009 bike and they have confirmed that they will debut the new MotoCzysz proprietary electric motor controller drive system, which is expected to be the highest torque/density electric motor in the industry. They are expected to be one of the leading contenders to claim the £10,000 prize that the Isle of Man Government has offered to the first team to record a 100mph average time for a lap of the 37 3/4 mile course by an electric motorcycle.

Michael Czysz, Founder and CEO, MotoCzysz, commented: "We are very excited to be returning to the Isle of Man to compete in the 2010 TT Zero. The fact that electric motorcycle racing has been elevated to an official class within the TT shows the commitment of the Isle of Man Government in providing the low emission pioneers with a world stage to demonstrate their solutions. This may end up being one of the purest prototype classes left in racing."

Hon Martyn Quayle, MHK, Minister for Tourism and Leisure, Isle of Man Government commented: "We are delighted to have a team of the credibility and prestige of MotoCzysz confirming their participation. They are one of the true pioneers of motorcycle racing and I'm sure will arrive on the Island as a very competitive team."
Source: Manx.net