Vectrix To Relaunch At 2010 International Powersports Dealer Expo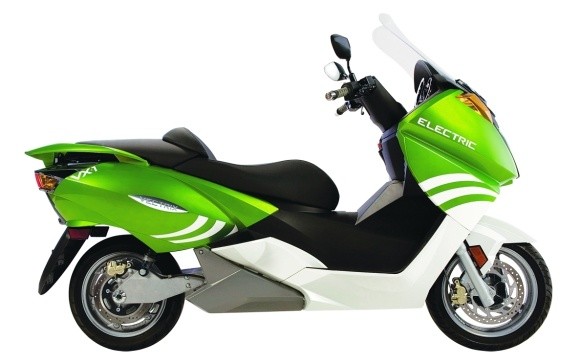 Vectrix has emerged from backruptcy after being purchased by GP Batteries. Their official relaunch will take place at the International Powersports Dealer Expo on February 12 – 15 in Indianapolis, Indiana. The press release issued by Vectrix USA states Vectrix has already started shipping parts and products and is planning the relaunch to let customers know they plan to grow. Interestingly the press release states part of this growth will into "other vertical professional markets". I will post clarification on what this means when I get it.
See the full press release after the break.
Vectrix Corporation, a newly formed Delaware corporation, and Vectrix International, will relaunch the Vectrix brand and its advanced electric vehicle technology products into the worldwide market on February 12 – 15 at the International Powersports Dealer Expo in Indianapolis, Indiana.
In gearing up for the relaunch, the Vectrix Corporation has opened its new US Head Quarters and development center in New Bedford, Mass. With it's patented technologies developed over the last decade, Vectrix will continue to design and develop innovative technology solutions in New Bedford, Mass. with original key members of its product development team. "The core focus of the Vectrix Corporation design team is to remain on the cutting edge of innovative technologies that revolutionize urban transportation.", explained Chief Operating Officer Jason Kim.
The International Powersports Dealer Expo will give Vectrix Corporation an opportunity to reassure its loyal customer base that it intends to grow in the market place as one of the leading personal electric vehicle Original Equipment Manufactures. Vectrix has begun to ship spare parts and finished products to its customers and is excited about the growth potential in the coming months. The Vectrix product lines are an ideal solution for the worldwide urban transportation market's need for clean, efficient and cost effective transportation alternatives. Vectrix will be expanding beyond its traditional markets into other vertical professional markets, while continuing to service its loyal customers through dealer channels.
Key Features of the Vectrix Scooter:
• Zero carbon emissions during operation
• Range of 35–55 miles (depending on speed, rider weight, and driving habits)
• Top speed of 68 mph
• Acceleration 0-50 mph in 6.8 seconds / 0-31 mph in 3.6 seconds
• As responsive as a 400cc scooter but with a 125cc classification, making the bike accessible to anyone with a provisional license who has completed CBT training.
• Patented Multi-Function Throttle provides regenerative braking and a slow-speed reverse for greater maneuverability and easy parking
• The onboard charger recharges the scooter in just over three hours from a standard 110/220V (3 pin) power socket.
• Low noise for reduced sound pollution
• Estimated battery life of 10 years/50,000 miles
About Vectrix
Vectrix (www.vectrix.com) was reformed in 2010 to develop and commercialize zero-emission vehicle platform technologies focused on two and three wheel applications. The single focus of Vectrix has been to provide clean, efficient, reliable and affordable urban transportation. Vectrix has its US headquarters in New Bedford, Mass. which include engineering, test facilities, sales offices and a multiproduct vehicle assembly line.
For more information contact:
Brian Buccella, Vice President of Sales and Marketing
Email: Brian_Buccella@vectrixusa.com
Tel: 949-838-7287
SOURCE Vectrix