snowXbike Snow Bike Developed For snowXpark Concept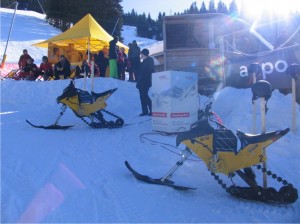 snowXpark is a snow bike riding park and rental concept developed by Adrian Barmettler and Silvan Studer. The idea is to designate a trail circuit at ski resorts for motorized electric snow bikes similar to the Quantya Snow X. snowXpark developed the 15 hp, 22 mph snowXbike for this purpose by converting a Snow Hawk to electric drive using Quantya electronics. The two early thirties entrepreneurs  have already held demo events at ski resorts near their Sachseln, Switzerland headquarters with interest from over 200 eager snow riders.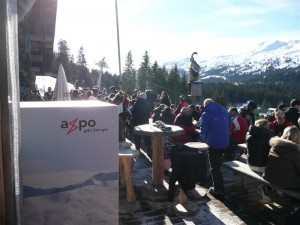 Inspiration for the snowXpark came from the popularity of snowmobile rentals in areas such as Finland and Canada. In Switzerland however, gas powered snowmobiles are prohibited. So, Adrain and Silvan went looking for a sled they could offer for rent and still stay legal. They experimented with a Snow Hawk and eventually hooked up with Quantya who converted it to electric using Quantya electronics.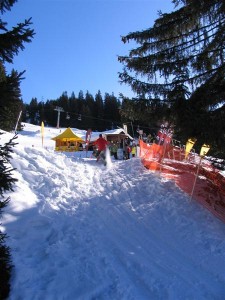 Compared to the original two stroke engine that takes some time to build RPM's and "get on the pipe", the Quantya electric drive delivers power instantly. Adrain and Silvan were impressed enough to build a brand around the setup which they are calling snowXbike.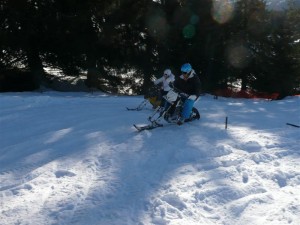 Apparently Quantya was impressed with the snowXbike enough to build their own prototype model, the Snow X which I wrote about yesterday. The snowXpark concept is very similar to Quantya's own Quantyaparx concept that allows for rental of Quantya Track dirtbikes for use at Quantyaparx motocross facilities.
Check out the video of the snowXbike in action after the break and find out more about snow X park on Facebook.
http://www.youtube.com/watch?v=8y80MaQaQDc
Posted on February 2, 2010 at 4:15 pm by
John Adamo
·
Permalink
In:
Other Makes
· Tagged with:
Adrian Barmettler
,
electric snowbike
,
Quantya
,
Quantya Switzerland
,
quantyaparx
,
Silvan Studer
,
snow bike
,
Snow Hawk
,
snowmobile
,
snowXbike
,
snowXpark
,
snowXtrack
,
Switzerland