Yamaha EC-03 Electric Scooter Planned For Summer 2010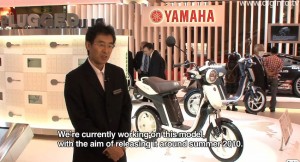 Back in October '09 Yamaha displayed a few scooter concepts at the 2009 Tokyo Motor Show. The X shaped EC-f and EC-fs were cool looking electric powered scooters but Yamaha did not give a whole lot of information about them. Their future is uncertain.
The third model was an updated version of the electric Yamaha Passol, a prototype that first debuted in 2002. The 2009 version is called the EC-03 and the video below describes the design philosophy as "Light, Smart, Clean, Silent". Kazuki Takahashi, Director of EV Development Department at Yamaha also mentions the EC-03 is planned to be released this summer 2010.
The 99 pound, aluminum framed EC-03 is powered by a  permanent magnet synchronous motor that has a maximum output of .6 kW. Yamaha's 8 years of research into the electronics result in smooth acceleration and start-ups which they call Yamaha Motor Control System. Cool design features include a forward tilting seat for access to the lithium ion battery pack and an on-board charger.
Check out the video after the break.
Source: YouTube