Phil Smage Playing Indoors On The Zero MX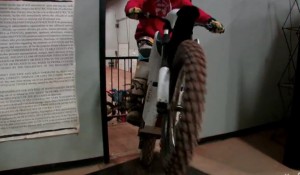 The Smage bros. are two of those multi-talented guys you love to hate. If it has two wheels they can probably ride it better than you. Yeah, I'm sure it's hard work that got them there but saying it's heredity makes me feel better about my riding skills.
LP Motocross recently filmed Phil Smage on the Zero MX in the Amsoil Sandbox Arena. According to Phil, Wisconsin's Sandbox is the "best indoor track ever". There are many reasons to be excited about electric and riding indoors is one of them. Sure you can ride ICE bikes indoors but you have to remember your ear plugs, breath exhaust and it's harder to talk to your friends between motos.
Watch Phil air out the MX, tear up hay bails, ride stairs and wheel hop people after the break.
Source: LP Motocross