Electric Moto EMAX 72DS Based on ATK Chassis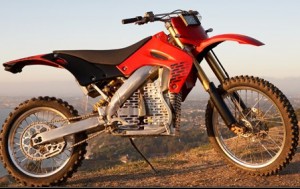 Since Ely Schless stepped down from CEO to CTC we have not heard much from Electric Moto and their Blade XT. They are back with a new website, a new CEO and a 72 Volt, full size electric dirtbike. It sits on high spec Tag/ wheels, Ohlins suspension and an aluminum frame that is unmistakably Cannondale ATK.
Electric Moto CEO Mitch Lenard explains in a recent press release announcing the new website:
The site will be modified regularly to reflect the advancements in concept and design of our vehicles, and other products, as well as the widening range of Joint Venture partners with whom we expect to be working.
It appears one of these joint ventures is with Frank White's ATK. ATK has served the all American niche dirtbike market for many years and purchased the defunct Cannondale ICE dirtbikes after 'Dale failed at making a profit on the buggy but innovative reverse cylinder, under seat gas tank, high spec machines and went into bankruptcy.
ATK and Hyosung recently entered a joint venture to build and rebrand bikes to expand each others lineup so this partnership doesnot surprise me. Select Harley Davidson dealers, without the blessing (or denial) from HD corporate,will sell the ATK branded Hyosung based machines.
The absence of an oil sight glass on the in the frame of the 72DS leads me to believe the bike pictured is a left over from the original Cannondale x440s. I'll hold off on speculation but I'm sure you mind is wandering as mine did.
This street legal EMAX 72DS is significant because when it reaches production it will be the first traditional MX spec electric dirt bike. It has 21″ front wheel and a 19″ rear on 13″ of premium Ohlins suspension travel while bikes from Zero and Quantya run smaller wheel sizes with significantly less suspension travel. This should translate to a greater ability to tackle rough terrain and many choices for tires. Of course, this comes at a significant weight penalty. The EMAX 72DS weighs 210 lbs compared to Zero's 156 pound MX machine. Still the EM bike is 40+ lbs lighter than a 250cc four stroke enduro dirt bike.
The EMAX delivers 40 nm of torque and 21 HP for a 60 mph top speed. Motor details are not listed and the somewhat confusing, hard to find, non-linkable specifications popup cites a 3 hour range and 14 kW capacity. I am seeking clarification on this as capacity should be a kWh measure and 3 hour range is very high given today's battery technology.
There is no production date listed for this impressive new electric dirtbike but the press release explains more details will be available shortly. Electric Moto also looks to be working on an electric bicycle, scooter, personal watercraft and an ATV.
Meanwhile I'll be doing some research into the .01 per share EMOT. For the record I am not a shareholder but if this bike lives up to the standards of the ATK chassis that may change soon.
Full Press Release follows with a video interview of Ely Schless below:
Electric Moto Corporation (PINKSHEETS: EMOT), an industry leader in the development of emission-free, electrically powered vehicles, and associated Green lifestyle accessories, announced today that its website www.electricmoto.com is live.
According to Mitch Leonard, the new CEO of Electric Moto: "The website will give us an ongoing locale for our customers and partners to monitor the rapidly developing world of our technology. The site will be modified regularly to reflect the advancements in concept and design of our vehicles, and other products, as well as the widening range of Joint Venture partners with whom we expect to be working. In addition, of course, it will give our shareholders a full and open view of the company at all times, and access to management as well."
Interested parties should look for upcoming announcements regarding the corporate structure and philosophy of EMOT.
Electric Moto Corporation (EMOT) is a leading technology and lifestyle company dedicated to the development, production and distribution of zero emission vehicles and related products. Electric Moto's 72 Volt Dual Sport Electric Motorcycle (pictured fully on the website) will be the first in a line of state of the art vehicles and products that will change the way people think and feel about their modes of transportation, energy use, and the environment.
Contact:
www.electricmoto.com
Kristie Cain
IPG Group LLC
224 West 35th St., Suite 702
New York, NY 10001
212-216-9428


Posted on December 11, 2009 at 9:33 am by
John Adamo
·
Permalink
In:
Electric Moto
· Tagged with:
72 volt
,
ATK
,
Blade XT
,
dual sport
,
Electric Moto
,
Ely Schless
,
EMAX 72DS
,
Mitch Lenard
,
off road
,
pics
,
street legal
,
Video