Voltra Electric Motorcycle Concept – Look Ma, No Tank!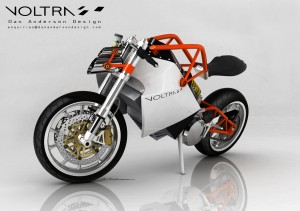 Ironically, one of the features designers of electric motorcycles seem to have the hardest time getting away from is the gas tank. My hunch as to why is a motorcycle just looses too much of it's identity as soon as you take away the tank. Eventually our minds may learn to accept the tanks absence. Until then Dan Anderson's Voltra electric motorcycle concept, with it's trellis frame forming the skeleton of a gas tank lets our minds wander just far enough to be comfortable with the no tank look.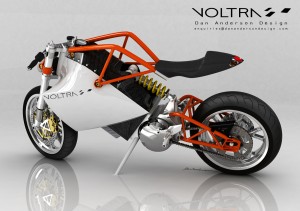 Suspended on the end of the vestigial tank structure is a cafe racer inspired seat and tail section hinting at Dan's inspiration for the bike. This 4th year University of Western Sydney Industrial Design student has a deep rooted respect for the culture of ICE motorcycles and their design. His father Chris successfully raced Norton Manx in a classic race series in Australia in the late 80's and early 90's and currently owns a Commando and a few Ducati's. He was Australian champion 3 times and state champion 6 or 7 times. Dan's personal bike is a Ducati Pantah 600 that he restored himself.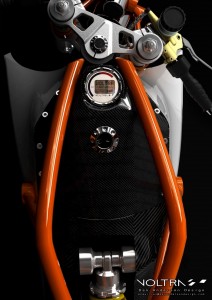 The striking aesthetics of the Voltra bike speak for itself.  Combine the visual presentation with cool features like a removable instrument cluster that doubles as a key and records data for review after the ride and it would have the most vain of squids jumping at the chance to add it to their garage furnishings. However, the more you dig into the design the more you realize the beauty is more than skin deep.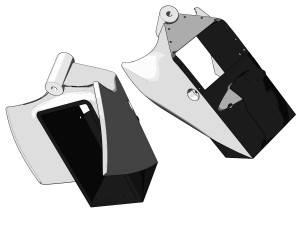 Earlier this year MotoCzysz unveiled an equally stunning carbon fiber framed E1PC that has the batteries attached to the side of the frame in 10 modular packs. Dan took a quite a different approach. What appear to be side panels on the Voltra are actually part of the carbon fibre monocoque frame. It is designed as a load bearing exoskeleton that has a hollow cavity inside to hold the batteries.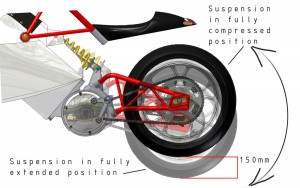 The AC induction electric motor resides in a cast housing that doubles as a pivot for the trellis swing arm. This design not only makes for a rigid connection between swingarm and frame, it provides a consistent chain tension through the travel of the rear swing arm.

The motor and lithium ion batteries are directed by a programmable control unit. The design translates to a 441 lb machine with 129 Nm of torque and a top speed of 124 mph. All very realistic specs based on today's technology, a further testament to Dan's thorough research. As with all electric vehicle designs weight and energy density of batteries will come down and specs will only get better.

Be sure to have a look at the gallery below as there is a lot more information in the sketches and renderings. He includes ergonomics analysis for average, large and short riders, analysis of stressed members of the construction and a view of how the motor is fitted inside the swingarm pivot.
Dan told me I have the most information of any site on the net so let me know if I missed any information contained in the pics. I'll also mention Dan is in his fourth year and looking for a motorcycle company to begin his career with and he is open to any form of propulsion. Someone might want to snatch him up before he gets together with Tom Miceli and Tony Helmholdt and creates more competition in the market.