Zero S Test Ride Review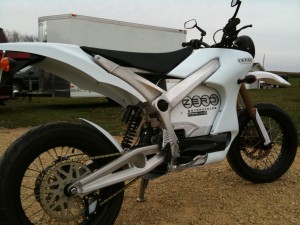 A chilly, overcast November afternoon in the corn fields of Illinois set the perfect stage for my first meeting with the Zero S. I had been on the fence about the styling of the S but now that I've ridden it it seems the designer was truly inspired. The white flowing lines of the bodywork sitting on the angular bones of the chassis perfectly visualize it's eerily silent, ghostly movement. A surreal incarnation of what we once knew as motorcycle freed from the rules of it's previous life on earth.
Part of the reason for my dramatic view of the S may result from being completely exhausted from 56 miles of trail riding. Rolling down the hill overlooking the parking and staging area for the Forest City Riders event the white and black S stuck out like my bruised middle finger (watch those saplings) in a sea of orange. Chicago Zero rep Mike Mastrangelo was busy talking to a few curious riders when I rolled up. I immediately began to worry I would miss my chance to ride the elusive Zero S again.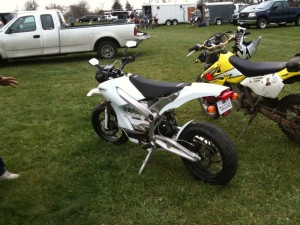 I parked my complex and suddenly dated DRZ next to the S, looked over the bike and snapped some pics as I listened to Mike happily chat with riders asking questions and braking into long emotion packed rants about foreign oil dependence. It then struck me that Americans wants Zero to succeed. And not just for the environment. Americans want another successful American motorcycle company. Many guys also seemed to cautiously recognize electric as a superior technology to internal combustion although most didn't feel we would see a product worth buying in the next 10 years. I can assure you, for many people they are about 10 years off.
After securing a spot on a local internet TV show Mike finally broke away from Q&A and directed me to his truck where I could jump on the bike and ride. I was beaten down from 50+ miles of riding woods and corn fields but stoked to finally get a chance to experience the S. It's hard to explain the feeling as Mike silently pulled away on the bike. I felt a sense of anxiety like something was really wrong. Two days later I am realizing the picture I had built of motorcycles over the last 30 years was crumbling before my eyes and ears. The S moved peacefully but with purpose like the pro class enduro riders who effortlessly floated past me and disappeared into the trees. It was a strange but inspiring thing to experience.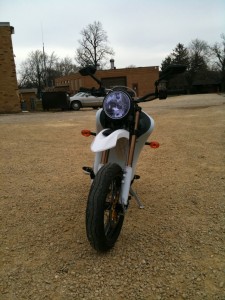 The fit and finish on the S is above average from the trick round PIAA style headlight to the aluminum handlebars to the wide, aggressive all metal foot pegs. All the stuff you have to upgrade on Japanese bikes. The rear fender looks a little chunky and the largish tail light seems a bit dated compared to the rest of the bike. I'm sure we have DOT to thank for that but both are easily remedied. The SDG saddle is very firm which is not always a bad thing but it might be a little too firm to feel comfortable for a full 4kWh battery packs worth of riding (50 miles). Sitting on the bike you get the feeling it is very well engineered and rock solid. When activating the bike the speedometer needle on the slick dashboard sweeps through it's range settles at zero and displays charge remaining. No startup tone on this electric.
Neal Saiki spent a lot of time designing award winning technology in the mountain bike world and that is evident in the Zero S ergonomics. Specifically the handlebars are a few inches too low for my taste. This may have a lot to do with the trick looking mirrors being completely useless. You will need to put on bar end mirrors or raise the bars 2 or 3 inches to see over your forearms. This is not a big deal but an expense to be prepared for if you don't like an aggressive forward lean.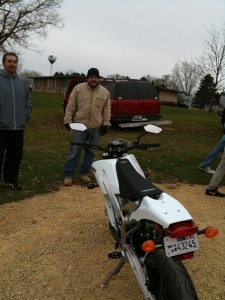 Back in July I had ridden the Enertrac Hub Lifan conversion that Jay Johnson rode at Mid Ohio. The power of the S seemed close to the Enertrac from what I can remember but more smooth and refined. There was no cogging as I gingerly rolled on the throttle. The bike crept forward smoothly and easily with out an audible hum. I expected some chain noise but don't recall much, if any. I then gave the throttle a crack and the bike jumped forward with surprising force. This made me smile. Coming to the first stop sign I reached for the clutch and a split second of panic came over me as I thought I stalled the engine. Ah yes, it's electric, it does not "idle". It took me 3 stop signs to get over this feeling. I knew the Zero S was quiet but there really is very little audible noise, even from the chain. Pushing my DRZ400 makes more noise than the Zero S does at 10 mph.
I took the Zero S up to 25 miles per hour fairly quickly with half throttle on a slight uphill out of town. It was hard to judge the acceleration as it is perfectly linear and effortless but I would guess it was 200cc four stroke single territory. Wacking the throttle open from a stand still did not seem to produce much more power. Others have said the bike is on par with a 250cc machine. On flat ground this could be but I'm not convinced yet.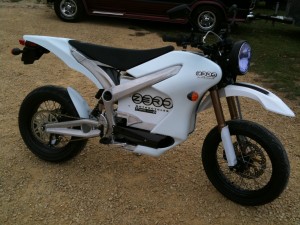 As the speed limit allowed I rolled on the throttle to bring the bike up to 50 mph. I expected the power to engage sooner in the throttle rotation as I was rolling it on. Roll on in general seemed to be a little inconsistent which would pose a problem in technical riding scenarios. Again, keep in mind I only rode the S a few blocks and my mind may just be stuck on four stroke ICE behavior. I would love to learn more behind the programming that goes into power delivery. I got the feeling Zero may be hiding some power in that motor for the sake of increasing range and motor life. Brammo has admitted to doing just that and only using 1/3 of the motors peak power output. If I am right about the throttle response inconsistencies I assume Zero can them quickly via PC the way Brammo has explained they can do with the Enertia.
The S handled very well in the corners and braking power seemed sufficient for the bikes capabilities. Considering the S will appeal to city folks I would try to improve the turning radius a bit. The bike would make a fantastic commuter and would be a lot of fun on a tight road track or local backroad twisties. Lack of shift lever means no nasty log crossings throwing your bike into neutral. No clutch lever means less arm pump during hard riding and no interruption in power delivery.
Riding the S solidified in my mind that electric really is a new genre of two wheeled transportation. Riders coming off a 250 or 450 that can't do without big power won't replace their stinkies with it but will want one parked beside it. People who are looking for a low maintenance, quiet, finely engineered machine that is breaking new ground in flexibility and riding style will be thrilled with the Zero S. For some the future is a few years off but very close. For many of us the future is here today.
In the end please don't take my word for it, my ride was very short. Some reviews have been similar, others have been very different. Contact Zero to find you local rep and take a ride for yourself. Many of these guys and girls are riders and enthusiasts and it should be a good time. Please stop back and leave a comment and give us your review of the S.
Thanks: Zero Motorcycles Midwest