Mavizen TTX03 Motorcross Derived Electric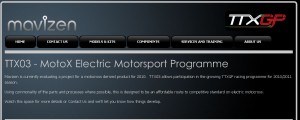 Today is a big day for Mavizen and TTXGP founder Azhar Hussain. They are unveiling the Mavizen TTX02 at SEMA show which looks to be based on the KTM RC8 superbike chassis and the Team Agni X01.
After taking a look at their website it appears they are also working on a dirtbike called the TTX03. Like the TTX02 electric road racing bike, Mavizen plans for the TTX03 electric dirtbike to be an inexpensive entry into electric racing.
Mavizen is currently evaluating a project for a motocross derived product for 2010. TTX03 allows participation in the growing TTXGP racing programme for 2010/2011 season. Using commonality of the parts and processes where possible, this is designed to be an affordable route to competitive standard on electric motocross.
Though the site does not say specifically, it will most likely be a supermoto bike. TTXGP.com did mention they were working on a supermoto event for the 2010 Isle Of Man TTXGP. There are no published plans currently for offroad/MX being added to the TTXGP road race series. However, I would be very surprised if it did not happen as Zero and Quantya already produce the bikes and participate in offroad racing events.
Stay tuned for pictures of the TTX02 as they start to surface from the SEMA show unveiling.
Source: Mavizen
Posted on November 3, 2009 at 3:32 pm by
John Adamo
·
Permalink
In:
Mavizen
· Tagged with:
Azhar Hussain
,
eGrandPrix
,
electric dirtbike
,
Electric Motorcycle Racing
,
electric mx
,
Mavizen
,
Mavizen TTX03
,
Racing
,
SEMA
,
TTX03
,
TTXGP