PMW Shocker Spooked By Recession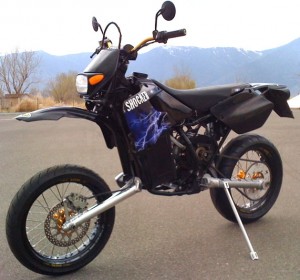 Depending on who you ask the recession can be a catalyst for innovation or a good reason to fall back on your core business. Mission Motors feels the recession will allow them to get a jump on the big 4 Japanese motorcycle brands in pioneering the growing electric motorcycle segment. Harley on the other hand dumped Buell and MV Augusta and is going back to their bread and butter V-Twin cruisers. Each business is different and there are many variables involved that require emotion to take pillion.
PMW (Patmont Motor Werks) is best known for their GoPed folding motorized scooters and recently began building an electric dual swingarm supermoto and dirtbike based their CIDLI "Kanti-Link" suspension system. Basically, instead of front forks it has a swingarm attaching the front wheel to the frame.
The prototype Shocker took third place at ReFuel alternative fuel race at Laguna Seca making it the second fastest motorcycle behind the Electric Motorsport entry. It was a very promising start for the innovative 2 wheeler. Unfortunately the project was put on hold as Steve Patmont recently explained on the PMW discussion forum…
I wish I had good news. The Shocker R&D project is presently on standby for better economic conditions. We are hoping to license the "Kanti-Link" (aka CIDLI) suspension technology and patents to one or more international motorcycle brands.
Neal Saiki of Zero recently explained that even though electric motorcycles are very simple mechanically there is a lot of programming involved in getting the motorcycles to run correctly. There is a good chance PMW may not have the in house expertise, time and money to perfect the Shocker. The good news is we may see the Kanti-Link suspension implemented on another motorcycle. Hopefully this arrangement works out well for PMW and we eventually see the Shocker go to production.
Source: GoPed Nation
Images: PMW Blog
Posted on October 30, 2009 at 4:53 pm by
John Adamo
·
Permalink
In:
Other Makes
· Tagged with:
CIDLI
,
Enduro
,
GoPed
,
Kanti-Link
,
Patmont Motor Werks
,
PMW
,
recession
,
Shocker
,
Steve Patmont
,
supermoto