2010 TTXGP Rules Published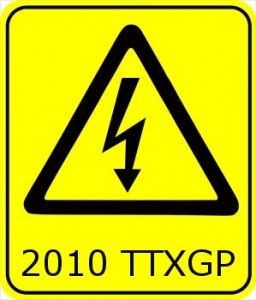 The 2010 TTXGP Rules are now available on eGrandPrix.com. After a quick glance at "Version 22" most of the rules revolve around the setup of the motorcycle and keeping the rider, IOM Track Marshals and safety crew safe. Interestingly there were no rules regarding battery swapping which will be allowed for the two lap Pro Class. Pit stop guidelines will be published in a supplemental regulations document for each race in the multiple series eGrandPrix is running in 2010.
For 2010 streamlining (see image below) will be allowed. Streamlining improves the aerodynamics of a motorcycle which is very helpful with the limited energy capacity of today's battery technology.  The streamlining rules are spelled out for keeping the rider safe and the bike stable at race speeds. They look to be similar to the guidelines Craig Vetter wrote up for TTXGP last year. None of the 2009 TTXGP teams used streamlining.
On the safety front the TTXGP mandates that in the event of a system failure the bike must be able to freewheel. This was an issue last year when the eRockit team's motor failed and locked up the rear wheel. Since there is no clutch on a direct drive, fixed gear electric motorcycle the rear wheel can not spin when this happens. Unless the rider is traveling in a straight line at low speeds a crash is inevitable.
In addition to last years tank and tail mounted "mushrooms", red plungers that disable the motorcycle drive system, the bikes must have a "power indicator". This will be a blinking red light on the back of the bike to let anyone near the bike know the bike is activated. As electric motorcycles make no noise when idel, this is important in the event of a crash so that the safety crew does not grab a handful of throttle picking up the bike.
Regenerative braking and other "energy recovery" systems are allowed and the rules are spelled out for how it is implemented. A few teams used regen in 2009 including Open Class 3rd place finisher Team Tork India.
Two wheel drive is allowed. None of the teams used it in 2009 but a front wheel with an electric hub motor front wheel is feasible so I would not be too surprised if we saw it in 2010. It would however be a very big innovation as there are no commercially produced electric hub motors for motorcycle applications that I am aware of.
Finally, carbon based lubricants of any kind are not allowed. This includes the cooling systems.
Keep your eye on eGrandPrix.com for updates to the rules. A redesigned web site is in the works. Also, this weekend the Mavizen TTX02 will be unveiled at SEMA. I hear the bike looks fantastic and you will be surprised when you see it. Momentum is building for eGrandPrix, it looks like 2010 should be a great show.
Source: eGrandPrix.com
Streamlining Image: CraigVetter.com
Mushroom Image: Street Level