Ride A Quantya At The 2009 NEC Show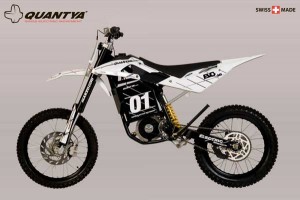 Quantya UK will be at the 2009 NEC bike show this year. The Carole Nash International Motorcycle and Scooter Show runs from 11/27 to 12/6 and is the largest motorcycle show in Great Britan. Quantya UK Ltd. Director Ian Mitchell-Innes wants to demonstrate to motorcycle enthusiasts that electric motorcycles are a viable replacement to their ICE counterparts by letting people see, sit on and ride them. The Quantya Track MX bike and Strada street legal enduro will be available to ride at the NEC's indoor "Off-Road Experience". Be sure to visit Booth oR048 in Hall 5 and say hi to the Quantya folks and let us know how your test ride went.
Hit the jump to read the Quantya UK press release.
Manufacturers of high quality, revolutionary electric motorcycles, Quantya, will display its acclaimed line-up of high-performance, eco-friendly machines at this year's Carole Nash International Motorcycle and Scooter Show, which will take place at Birmingham's NEC between 27th November and 6th December.
Having recently introduced two new models to the UK market, Quantya is keen to build awareness of its products and generate interest in its applauded machines over the ten-day period. In addition to its stand OR048 in hall 5, Quantya will also take a small fleet of bikes that the public will be able to ride as part of the show's new, indoor, Off-Road Experience.
"We're really looking forward to demonstrating the electric-powered Quantya bikes at what is the biggest annual motorcycle show in Britain," said Ian Mitchell-Innes, director of Quantya UK Ltd. "We think it is important that people not only get to see, but also 'feel' the power and performance of our two new models. It is a great way for us to dispel the myths and express the progress and advantages of electric power, while also having fun with potential customers and the public."
Quantya's two models are both hand built in Switzerland using British-made electric motors and aimed squarely at a growing market of forward-thinking, eco conscious commuters and fun-loving adrenaline seekers. The Quantya Track is a dedicated off-road machine that has been designed to put the broadest smile on even the most experienced dirt biker's face. The Quantya Strada is a softer, road-going trail bike that affords city commuters and weekend trail riders a stylish and practical alternative to a petrol-powered vehicle.
Comparable in size, weight and performance to a 125cc petrol bike, Quantya's revolutionary machines are incredibly quick off the mark, yet extremely easy to ride. What is more they emit no harmful fumes, are virtually silent, and, with only nine moving parts, cost almost nothing to maintain and even less to run (the road legal Strada is even exempt from congestion charges and road fund licence).
Both models share common components and characteristics. Beneath the gleaming white bodywork lies a 48V Lithium Polymer battery that drives an axial gap DC brushed electric motor, which will accelerate to an impressive 42mph in just 1.9 seconds. To match the motor's performance, Quantya has equipped each bike with quality suspension from Marzocchi (front forks) and Sachs (rear shock absorber), which is married to an aluminium linkage system and tubular steel frame. Tipping the scales at a mere 95 kilograms it is easy to see how Quantya has quickly established itself as the market leader in this tough sector. Quantya Stradaforks up front and a Sachs shock absorber connected to a substantial aluminium linkage system at the rear. Add to this a pair of disc brakes and an overall weight of just 95 kilograms and you can understand why Quantya has quickly established itself as the market leader in this tough sector.
"The road legal 'Strada' is years ahead of its competition, while its sibling, the strictly off-road 'Track', has already proved extremely reliable and popular after extensive testing in Europe's bike hire and ride centres. It even placed third in a 24-hour race against 125cc petrol bikes," added Mitchell-Innes. "Hence we are confident that when people actually get to ride these bikes at the NEC they will see for themselves how far this technology has come and quickly realise that what we are offering is a serious alternative to petrol-powered vehicles."
For information on Quantya motorcycles, please visit: www.quantyabikes.co.uk; or call: 01531 890955. For details on the Carol Nash International Motorcycle and Scooter Show, go to: www.motorcycleshow.co.uk.
Source: Quantya UK