Neiman Marcus Edition Mission One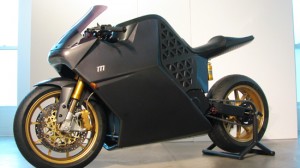 Have a sugar mama who can't seem to spend enough money on you and loves to tell people where she bought stuff? Good, Mission Motors has you covered with the Neiman Marcus edition Mission One. Just pick up the years 2009 Christmas Book's Fantasy Gift List, ear mark the page 54, (the one with the Liquid cooled, 100 ft-lbs torque, liquid cooled AC Motor all-electric motorcycle) and slip it in her pilates bag.
Then marvel in you cute clever ways as you count down the days until Christmas morning mid-2010 when you can tear up the streets at 150 mph without any tail pipe emissions or engine noise. So green. On your way back be sure to critique the engine braking and power delivery so you can tune it on your Mac with the USB ignition key that stores regenerative braking / engine braking settings. Go ahead and take the long way through the twisties and pretend you are Tom Montano in the 2009 TTXGP, the Mission One has a 150 mile range, your covered.
Now I know what your thinking. You are loving the Yves Behar design of the Mission One but not liking the two tone paint job? Fear not, the Neiman Marcus edition comes with gold Marchesini rims and "gloss black & anthracite" paint job. Yeah, I have no idea either, it's basically fancy talk for "all black like the stealth bomber". The bottom line is it needs a cool color name, it cost $73K.
But wait, there's more! When you take delivery of your electric superbike you will be invited to Mission's San Fransisco headquarters where you will rub elbows with former Tesla and Google employees and AMA racers who left those jobs because the companies where not cool enough for them. Now that my friend is cool.
As you can see in the picture below, the Mission One Product Manager Jeremy Cleland can easily back the Mission One in using "some regen and mostly rear brake". He was also able to break 150 mph on the Salt Flats during BUB week last month.  If a product guy can do it I'm sure they will have you backing it in by the end of the stay.
Go ahead, get one of the 10 limited edition electric bikes. Be sure to post a comment so we can all hate you. BTW, get a job! :D
Source: Mission Motors
Posted on October 6, 2009 at 2:57 pm by
John Adamo
·
Permalink
In:
Mission Motors
· Tagged with:
2010
,
black
,
christmas book
,
humor
,
Jeremy Cleland
,
jk
,
limited edition
,
Marchesini
,
Mission Motors
,
Mission One
,
Neiman Marcus
,
wish list
,
Yves Behar