TTXGP Team Tork India T-001X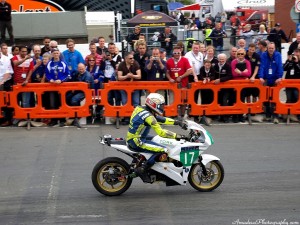 In 2009, Team Tork India took third place with their T-001X Open Class electric motorcycle in the TTXGP at Isle Of Man. Details about the team were rare before and during the event. Now the team has a twitter account and a website presence and appear to be doing interviews with media outlets in India over the last few weeks.
The T-001X is based on a custom engineered trellis frame chassis designed by Kapil Shelke, Pankaj Gosavi, Ketan Mhasawade and Krunal Nanavati, all in their early 20's. They are all graduates of D Y Patil College of Engineering in Akurdi, India. The project was funded by their parents and the bike was fabricated at Kapil's fathers business Tirupathi Engineers. Triupathi Engineers has expertise in smart grid technology and infrastructure.
The pilot of the T-001X was the multi-talented John Crellin who died in a crash in the Senior TT soon after his 3rd place TTXGP finish. Team Tork and Mr. Crellin were visibly thrilled by their major accomplishment as he pulled into the press area after the race. I'm not sure how much time John had to learn the bike but in the video below you can see him being introduced to the T-001X in the TTXGP padock. The team, with a little help from Team Agni's team leader Arvind Rabadia (left) explains to Crellin that the bike has no gears and includes regenerative braking which is activated by tapping the brake lever.
Later in the day Crellin took the bike for a test spin on the streets of the Isle Of Man in traffic. The support van with Team Tork tried desperately to keep up.
We have heard there was quite a bit of comradery in the pits of the TTXGP to go along with the excitement of the historic event. Team Agni's motor and electronics guru Cedric Lynch also took a spin on the T-001X. Lynch is the inventor of the Lynch Motor which was used in many of the bikes including Tork, Brunel X-Team and the three in the MotoCzysz E1pc.
After the race the Indian Ambasador congratulated Team Tork and first place Anglo-Indian Team Agni on their finish and related the significance of the accomplishment to India launching satellites.
In the future Team Tork plans to race in the Pro Class of the 2010 TTXGP and hopes to make an inexpensive version of their electric race bike available to the public.
Source: Pune Minor, Team Tork India
Posted on October 2, 2009 at 11:51 am by
John Adamo
·
Permalink
In:
TTXGP
· Tagged with:
2010 TTXGP
,
Arvind Rabadia
,
Cedric Lynch
,
D Y Patil College of Engineering
,
India
,
Isle Of Man
,
John Crellin
,
Kapil Shelke
,
Ketan Mhasawade
,
Krunal Nanavati
,
Open Class
,
Pankaj Gosavi
,
Racing
,
T-001X
,
Team Tork
,
Tirupathi Engineers
,
Tork India
,
TTXGP