Ultra Motor A2B Excel Electric Scooter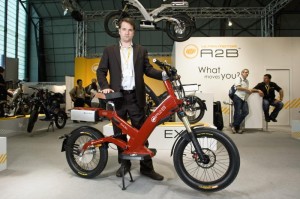 The A2B Excel is an all electric scooter by London based Ultra Motor that was on display at EuroBike 2009 in Friedrichshafen, Germany. You may think it looks a lot like a bicycle and with good reason. The first incarnation of the A2B has pedals. The Excel features large platforms where the bottom bracket and cranks usually reside and has a head light, turn signals, a tail light and an instrument cluster. Top speed is also up 8 mph over the pedal shod A2B at 28 mph. The Excel features an 800W hub motor where the A2B has a 500W unit. The cost of the bike is around $5300 (€ 3,199) but no word if this model will be imported to the US.
Update: The Excel will be coming to the USA.
A unique feature of the A2B range is the "Intelligent Dual Energy Power" (IDEP) which utilizes a lithium ion battery in the bikes frame and an external removable lithium ion battery pack. This allows the rider to fully change the batteries over night for maximum range. Then they can carry the external pack into work or whatever the destination and charge it to add some range for the ride home.
The compact nature of electric motors allow designers to approach the motorcycle and scooter world from different directions. Batteries are a different story but word on the street is they will get lighter and smaller as time goes on. Conparing the Ultra Motor approach to a two wheeled electric with offerings from other electric motorcycle manufacturers you can only image what types of bikes will meet in the middle and what new genre's of riding will evolve. I would love to hear your thoughts on this, please leave a comment or tweet.
If you live near a Best Buy that sells electric transportation be sure to check out the Ultra Motor A2B Excel's electric/pedal powered sibling. Ultra Motor dealers can also be found with their dealer locator (top right of home page as of this posting).
Source: Bike Europe, Ultra Motor US Blog
Posted on September 23, 2009 at 6:44 am by
John Adamo
·
Permalink
In:
Ultra Motor
· Tagged with:
2009
,
A2B
,
A2B Excel
,
Bicycle
,
EuroBike
,
EuroBike 2009
,
Friedrichshafen
,
Germany
,
Hub Motor
,
Interbike
,
Las Vegas
,
LEV
,
Light Electric Vehicle
,
Lithium Ion
,
Scooter
,
Ultra Motor