Mission Proves Fastest Production Electric Motorcycle Claims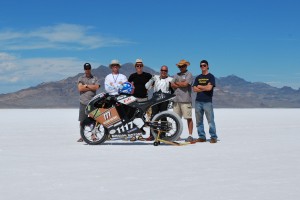 Last week I wrote about a video I found showing the Mission one speed runs at the Bonneville Salt Flats during Bub week. Now Mission has made it official with a press release and a nice short video documenting the run. As suspected, the speed run by Mission Motors Product Manager and Test Rider Jeremy Cleland put proof behind Mission's claim of "the fastest production electric motorcycle in the world" and 150 mph top speed. They also set the AMA record for an electric motorcycle at 150.059 mph.  It seems the only thing left to prove is the 150 mile range claim. In a comment on theKneeslider.com co-founder Edward West mentioned the 150 mile range is at ~40 mph.
AsphaltAndRubber.com has been covering Bub Week very closely over the last few weeks. Check them out for more information as they did a good job covering the Mission speed run and describing how amazing this achievement is. The day of the run Mission was dealing with slow salt and high cross winds. The salt flats vary in density depending on moisture content and can produce a 10% reduction in top speed over a paved surface.
Congratulations to Mission Motors on this amazing achievement! Between TTXGP and Bub Week they are definitely putting the Mission One through it's paces to be sure it meets expectations when it reaches the customers in 2010.
Source: Edward West's post on Mission's Bog