Mission Motors At Bonneville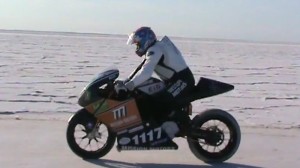 It appears Mission Motors was in Utah doing speed runs at the Bonneville Salt flats in August. Two videos of the Mission One at Bonneville in it's TTXGP race fairing wearing the number 1117 were posted on YouTube with the text "electric motorcycle 160 mph". A 160 mph recorded speed would be nice to back up Mission Motors claims of the Mission One being a 150 mph electric motorcycle. As this is far from an official report so we will have to wait for official word from Mission. Updates will be posted as they surface.
Update: A comment left on YouTube mentions the riders name was Seth. This is most likely Mission Motors Senior Engineer Seth LaForge who has been seen testing the Mission One in past videos.
Update 2: The rider was actually former AMA and AFM racer and Mission Team member Jeremy Cleland.
Videos of the speed run are posted after the break.
Source: YouTube