Mavizen and Agni Produce TTXGP Ready Electric Motorcycles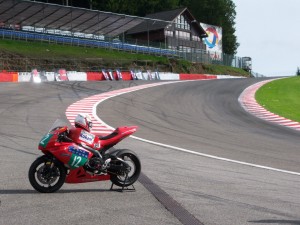 Back in August we reported that a "major American corporation" would be producing an all electric race bike based on the TTXGP winning Team Agni X01 for under $40,000 USD. We will continue to wait for that announcement but Azhar Hussain just shared that Mavizen is producing a second iteration of the all electric TTX01. They are working with Agni Motors to build the all electric TTX02. Like the Team Agni TTXGP bike, the TTX01 used 2 Agni motors and produced 170 lb-ft of torque and 86 HP. No word on the TTX02 specs at this point but fifty units will be ready for Q1 2020 and will cost $40,000 USD. The bike is meant to serve as an inexpensive entry into the TTXGP race series which will have multiple series held at tracks around the world in 2010.
There should be an announcement next week about first venue and date for the 2010 TTXGP World Series. Meanwhile, former MotoGP racer Didier de Radiguès just set the first electric lap record at Spa Francorchamps circuit in Belgium on the 2009 Team Agni TTXGP machine of 2:59.8. He felt he could have cut the time by 10 seconds if the track were in race prep condition. Radiguès commented on the agile feel of the bike and related it to his time aboard the TTX01 machine saying the Angi bike was an improvement. You can hear Didier comment on this May 2009 ride of the TTX01 at 3:30 into the video after the break.
Mavizen has a form on thier home page for registering a request for information and updates on the bike. If you are interested in running the 2010 TTXGP and don't think you can build a bike in time the TTX02 could be your ticket. Thanks for the tip Travis!
Source: eGrandPrix